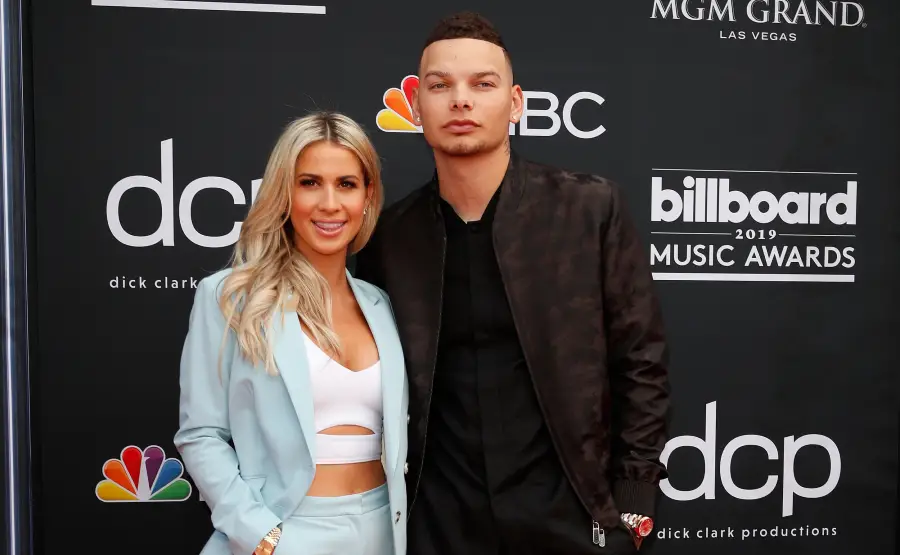 Kane Brown and his wife, Katelyn, revealed a big surprise last month, when they announced that she had given birth to their second child, a girl named Kodi, born on December 30. The Browns, who are already parents to two-year-old Kingsley, learned the hard way that not everything they want to keep private actually stays that way, which is why they decided to keep Katelyn's entire pregnancy a secret.
"She was already like four months pregnant, and we were like, 'When are we going to announce it?" Brown recalled on The Bobby Bones Show. "She was like, 'I kind of want to keep it a secret,' 'cause last time — I'm not bashing anybody, but last time, I sent a picture to my older brother, and he put it on social media, before we announced it. So, everybody already knew about it, and it was kind of upsetting."
Not only did the Browns not get to announce their first pregnancy the way they wanted to, but they also didn't get to announce their engagement, thanks to some savvy, eagle-eyed fans.
"Our engagement, when I asked her to marry me, we did a video, just a regular video in the car, and people saw the ring on her finger," Brown recalls. "So our fans announced that we were engaged. We wanted to say that we're having a baby on our own terms."
The Browns were firm in their decision to keep the upcoming arrival of their second child a secret, but it wasn't easy for them, especially as Katelyn started to show.
"I had to stay off of social media, because people were sending us stuff," Brown shares. "We had bags that said 'Kodi; on it, new bassinets that Kingsley is too big for. We'd do videos, and we'd have to see what's in the background, to make sure. It was insane. So I was like, 'I'm just not gonna post.' And then we would go out in public, and she would wear baggy clothes. But if you got close to her, you could kind of tell she had a belly. So if I saw a fan that I knew was going to recognize me, I would stand on that side of her. I would have her pushing the stroller, just do whatever I could to block her stomach."
Brown's celebrity status not only made keeping his wife's pregnancy a secret a challenge, but it has also made his struggle with depression difficult as well. Brown addresses those struggles in his song, "Memory," with Blackbear, out now.
"It's hard for an artist to go through depression because for us, we have to be on our A game 24/7," Brown reflects on Apple Music Country's Today's Country Radio with Kelleigh Bannen. "If we're out pumping gas and a fan comes up, and I'm just having one of those bad days, I have to put on a smile and there's no off time. So it gets a little rough for us because if you have a bad day, they're going to leave and they're going to be like, 'Oh, Kane Brown's a [jerk].
"So that's why I like that song, especially just saying for everybody that goes through depression or anxiety, you're not alone," he adds. "There are many people out there. You just got to find them and talk to them. So that was my way of saying 'I go through it as well. You're not alone in the world.'"
Brown just announced he is extending his Blessed & Free Tour, with Walker Hayes, Chase Rice and RaeLynn rotating as his opening acts. Find all of Brown's music and tour dates by visiting his website.
I'm extending my Blessed & Free Tour! Register for presale now 🙏🏾https://t.co/g57AYl26hv pic.twitter.com/DsCCOZXRey

— Kane Brown (@kanebrown) February 4, 2022