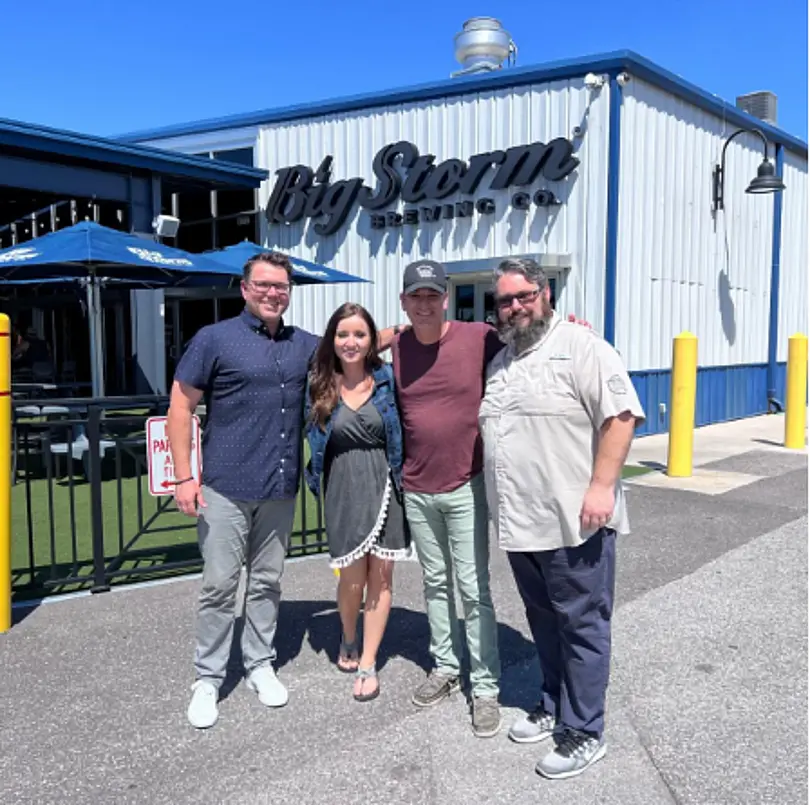 Craig Campbell previously sang about his friends drinking beer, and soon he hopes they will be drinking his own C.C. Cold Beer. Campbell announces he is launching his own line of beer, in partnership with Clearwater, Florida-based Big Storm Brewing, after the brewing company discovered the country music singer when he posted an acoustic performance video of his own "All My Friends Drink Beer."
"This is such a crazy story," Campbell says. "I posted the video, Big Storm responded, I happened to be performing in the area on an upcoming weekend, and they invited me to tour the brewery. Their products are top-notch, their marketing is fun, and from (owners) LJ and Shannon on down they're just great people who I'm proud to be in business with."
It was after watching Campbell perform "All My Friends Drink Beer" on Instagram that Big Storm Brewing co-owner L.J. Govoni posted a comment, asking, "But do all of your friends drink Big Storm beer?," unaware of what would come from that one question.
"I wasn't even sure if Craig would see our witty comment on Instagram, let alone respond," Govoni adds. "Now here we are releasing a beer together. We are big fans of Craig as a person and an artist, so partnering with him and his family was a no-brainer. It was obvious in our meeting that spending time with loved ones is very important to both groups, and we can't think of a better way to do that than with a cold one in your hands."
Campbell released "All My Friends Drink Beer" in 2020, with several of his famous friends, including Michael Ray, Granger Smith, Randy Houser, Adam Sanders, Canaan Smith and more joining him virtually for the fun video.
"I said, 'Hey guys, I've got a great idea for this video,'" Campbell previously told Everything Nash. "The idea behind the video is that all my friends are drinking beer, but they're all drinking in quarantine. I said, 'Shoot me a quick video of you pounding a cold beer, and we'll just splice it up and put it into a video form.' Luckily I got some good friends in the business, and almost everybody that I asked shot a video over. It turned out pretty awesome, I think."
C.C. Cold Beer will be available in many locations around central Florida beginning April 30. It will also be available at the grand opening of Campell's new Grindstone Cowboy Coffee Shop, opening in Eagleville, Tennessee, alson on April 30. A variety of clubs, restaurants and bars across the country are also expected to begin carrying C.C. Cold Beer in the near future.
Campbell has spent the last few months headlining his Craig Campbell Tour, by God, inspired by his current "by God" single. Find music and tour dates by visiting his website.