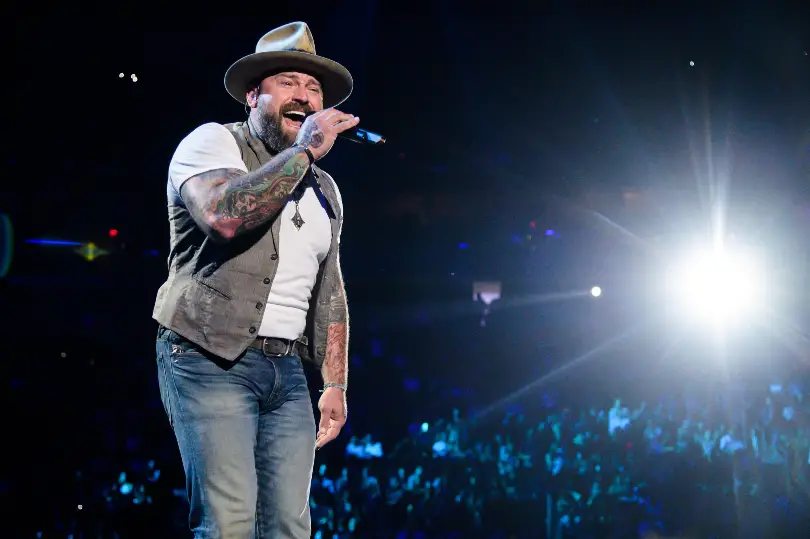 Zac Brown is a different person after the last two years. The 43-year-old was, like every other artist, devastated when he had to come off of the road, laying off most of his employees in the process. But now that he is back on the road, Brown says he has learned powerful lessons while at home, lessons he might not have learned any other way, mostly about taking care of himself.
"I wouldn't have slowed down," Brown tells Rolling Stone. "I had 250 employees when Covid started. I have to go work and provide and keep all those things going, all of our businesses, everything we had going. It just smashed everything. And then you have to keep the things that are necessary. Without everything else, there is a lot more bandwidth, right? A lot less headaches, a lot less payroll going out the door, so I don't have to just play as many shows to just go and break even with everything that's happening."
When Brown did return to touring, it was with both a different perspective, and a healthier mindset. Gone are the days of endless partying and excessive drinking, traded instead for a determination to live every day, and night, to its fullest, something Brown is now mindful to work towards.
"We take care of ourselves," he insists. "We look after our health. Being there to support each other and, if somebody's slipping or whatever, to really address it and talk to him and try to figure out how we can lift each other up so that we can have the longevity to be able to do this. I'm going to be doing this until I can't sing or play anymore. But the lifestyle around it all — there was a time when we drank a bottle of Jäger before the show, we drank a bottle of Jäger during the show, and then one after the show. We've had our days and we know what that offers. There's some of it where it's just kind of like, 'OK, we've passed this now.'"
Brown is intentional about how he takes care of himself, which he admits is a lot more work than the apathetic approach he might have taken in the past.
"I look at it as a professional sports team like, this is a competitive thing and we take it seriously [in] the way we practice, the way we rehearse, the way we perform," explains the singer. "Nobody's allowed to drink or smoke or do any drugs or anything during the show. Whatever they do after the show, they have a small window before we get on the buses and roll again. But I think what we do better now is take care of ourselves. I know that I have to sleep a lot. I have to drink way more water than I ever want to. I have to use a professional vocal coach and warm up for an hour every day. I have to do cardio every single day. I've got to keep the machine going, you know?
"I hate seeing people that are half-drunk onstage and people came to pay to see them, and they're just sloppy.," he adds. "That's not the way that I want our experience to be for people. This is our life and our business, and we've got to take it seriously."
While the time during the pandemic was hard for Brown, in hindsight he is at least grateful for the lessons the time away from the road taught him, lessons he will carry with him for the remainder of his career.
"It's been pretty interesting getting through the gauntlet of all of this," Brown concedes. "But what's come out of it is this massive rejuvenation. I needed time off and this forced me to take it. I'm just super grateful to be on the other side of the storms that we were going through and I'm in such a good creative headspace."
Brown is currently on the road, on his Out In the Middle Tour. Find all of Brown's music and tour dates here.