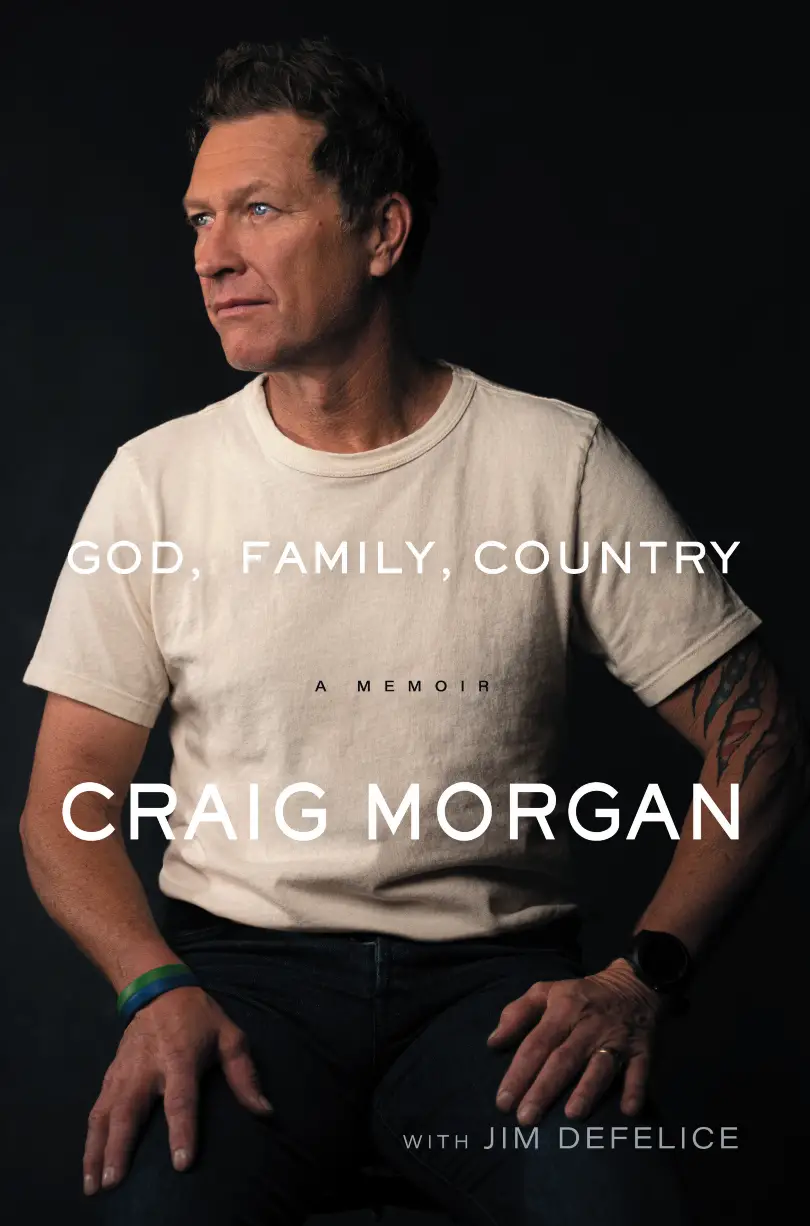 Craig Morgan is sharing his story — his entire story — with the world. The Grand Ole Opry member will release his memoir, God, Family, Country on September 27. The book will cover his entire life, including his early years and his time in the military, along with the tragic death of his son, Jerry, in 2016, and how his faith helped him overcome the unimaginable loss.
"We would start talking about certain things that have happened in my life, and especially after the loss of our son, after Jerry died," Morgan explains to People, "I'd meet people and they'd say, 'I don't understand how you have the attitude you have, after having lost your son.'
"I realized that I had such a love for God that I was able to do something with that," he continues. "And I realized that, with so many people telling me, maybe God was trying to tell me something."
Morgan wrote God, Family, Country with Jim DeFelice, who also co-wrote Chris Kyle's American Sniper autobiography. For Morgan, there was no one else that could have helped him pen his story as well as DeFelice.
"It was extremely difficult at times, the conversations that we were having," Morgan admits. "[Jim] was able to ask me the questions that would allow me to talk about the certain things that may have been difficult. But the way he worded the questions, it made more comfortable for me to converse about it."
"I talk about our heartaches, our pain, but fortunately for me, I don't have a lot of ugly in my life, aside from our son and that was a difficult time," he adds. "But my marriage is solid. My family is strong. My faith is empowering."
The 57-year-old has no doubt his son Jerry, who was 19 when he passed away, would be thrilled that his father was sharing his life's story.
"He's still a part of our life," Morgan maintains. "I tell people all the time, 'My son is not physically present, but he is still present physically in our lives. We still feel very much.' The only difference between what's going on with my son Jerry and my son Kyle that I'm here with right now is I get to talk to my son Kyle. I don't get to hear my son Jerry talk back."
God, Family, Country is about more, much more, than the tragedy Morgan and his family endured. He also talks about his miltary years, including working alongside the CIA in Panama, and fighting sex traffickers undercover in Thailand.
"I think when people read some of this stuff, they'll laugh about the fact that this country singer was in Panama with a CIA team," Morgan says. "There are things that I took from the military and that part of my life — it was a fun part of my life. Even some of the bad things that happened, some of the more difficult environments that I was in, all of these helped to make me the person that I am today."
Writing God, Family, Country was for Morgan a way to not publicize his life story, but to help others through the lessons and experiences he has endured.
"My objective is to inspire people. I want to motivate people to want to be better. It's up to us individually to make those decisions," Morgan says. "I just hope that when people see this, that they see that I'm not just some celebrity… I really want to make a difference in life and in the world and in people's lives. That's what the book, for me, is for."
Morgan and Lauren Alaina are will both star in the upcoming TV show, Beyond the Edge. The show will premiere on March 16 on CBS. Pre-order God, Family, Country here.