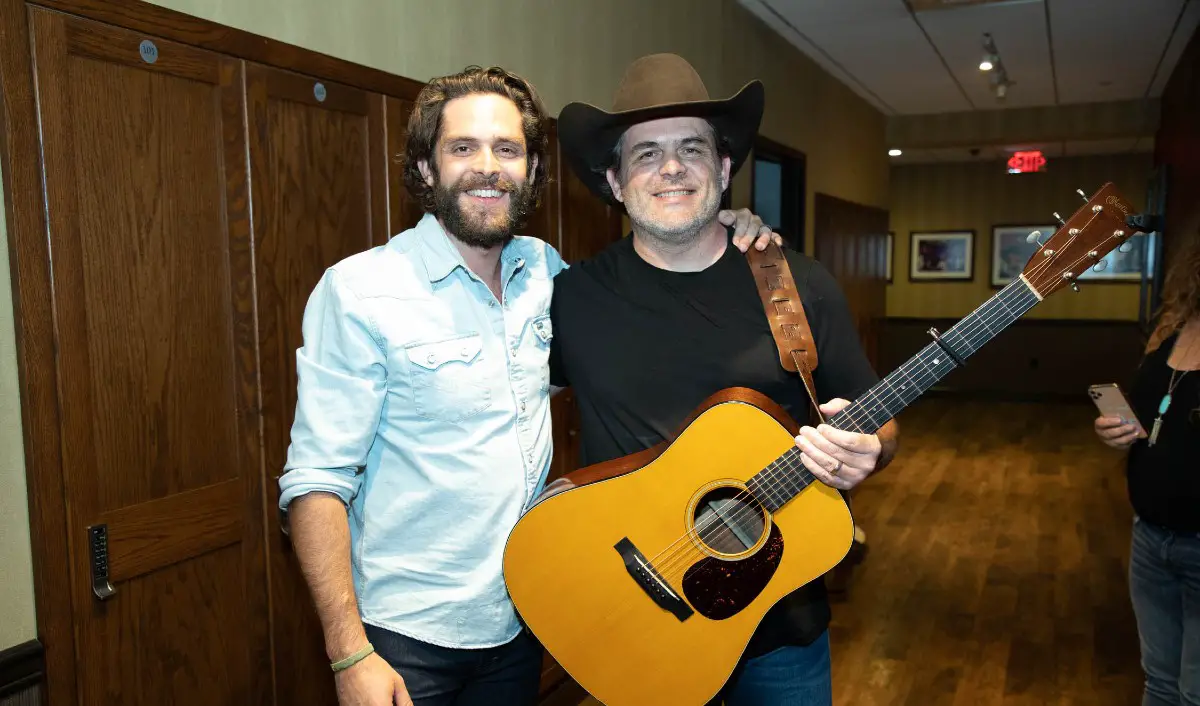 Thomas Rhett thought his career might be over before it even began. The father of four recalls the early days of his career, after he dropped out of college to pursue music, when his first two singles failed to make it to the top of the charts. In desperation, Rhett reached out to his father, singer-songwriter Rhett Akins, for a song that might make it all the way to No. 1.
"Something to Do With My Hands" was my first single that I wrote with [Chris] Stapleton. It died at fifteen on the charts," Rhett recalls in a conversation with Akins on his new Where We Started Radio with Thomas Rhett on Apple Music Country. "Beer with Jesus" was the next single that died at fifteen on the chart and I was like, 'This is it'  I get two singles and then I go back to college, to say that I did it. And I remember calling you that day like 'Hey, I need a hit song severely. My next song has got to be a hit.'"
Akins texted his son "Get Me Some of That," and also sent him "It Goes Like This," the latter becoming Rhett's next single, and first No. 1 hit. It also earned the approval of Rhett's wife, Lauren Akins.
"I remember playing them for Lauren, and she was like 'Now these are songs that I like,'" Rhett recalls with a laugh. "And so, that's when Lauren came into the picture as co-A&R of my career."
Rhett might have fallen in love with the songs, but his dad was more than a little uneasy when it was released.
"I'll never forget Bobby Bones premiering it on his show, and I was in my truck…I literally pulled over on the side of the road and almost threw up" Akins recounts. "Because I was like, 'If Thomas Rhett fails in this business, I don't want it to be because of me. I don't want my song to be the one that killed the career here.' So I was so nervous when it came on."
Fortunately, it didn't take Akins long to find out that his fears were largely unfounded.
"I remember going to see you when you were still playing little theaters and stuff," Akins tells his son. "Every night the crowd just seemed to get bigger and bigger, and know that song a little bit more. Then I knew it was taking off."
Since then, the father and son have written plenty of hits for Rhett together, including Rhett's current Top 20 single, "Slow Down Summer."
"I just remember sitting in the living room on the couch. I think I had an idea called 'Summer Sometimes,'" Rhett recalls. "'I think about that summer sometimes.' And then that kind of morphed in— I think you took that and rolled somewhere else with that and it eventually turned into 'Slow Down Summer."'I just remember thinking about that song a lot after we wrote it because the piano lick was so cool."
Rhett will release his next album, Where We Started, on April 1. The 15-track project, includes collaborations with Katy Perry,  Riley Green, as well as Tyler Hubbard and Russell Dickerson, on "Death Row."
Rhett will embark on his Bring The Bar To You Tour in June. Find music and tour dates at ThomasRhett.com.
Photo Credit: Courtesy of Schmidt Relations / Chris Hollo