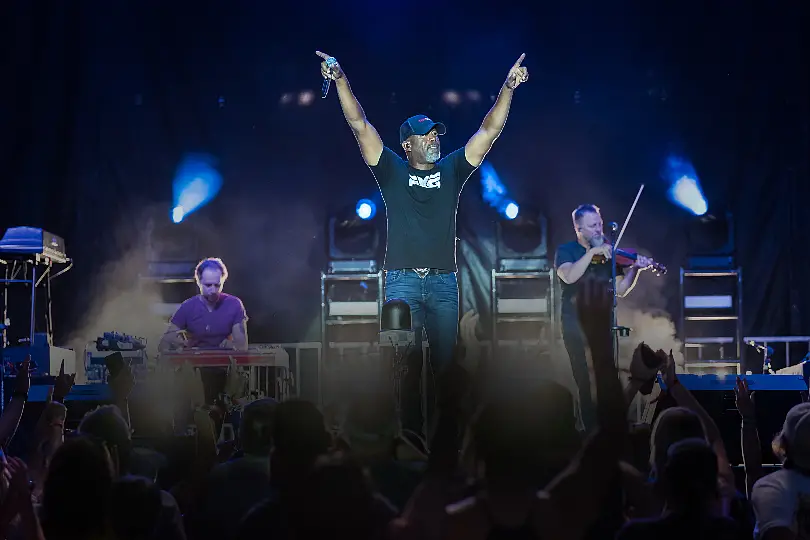 Darius Rucker is heading out on the road this summer, bringing along several of his famous friends. The South Carolina native announces his massive summer tour, kicking off with his Darius and Friends benefit at the Ryman Auditorium on June 8, with a rotating list of opening acts, including Tyler Booth, Daves Highway, Lindsay Ell, Larry Fleet, Caylee Hammack, Ryan Hurd, Jameson Rodgers, Elvie Shane and Tenille Townes.
Rucker, whose tour includes dates in the United States and Canada, announced the news on social media.
There's nothing better than a summer concert!! Summer dates for #DariusRuckerLive are out now! Can't wait to hit the road with @TylerBoothMusic, @LarryFleet, @CayleeHammack, @RyanHurd, @JamesonRodgers, @ElvieShaneMusic and @TenilleTownes. Details: https://t.co/za6KdTq93v pic.twitter.com/7lfFtA8CBf

— Darius Rucker (@dariusrucker) April 18, 2022
The Grand Ole Opry member has been a leader in making country music more inclusive, after experiencing first-hand being turned away because of the color of his skin, time and time again, early in his career.
"When I came to Nashville 14 years ago, I was going into the radio stations and being told that they didn't think it was going to work because I was African American," Rucker recalls in an essay he wrote for The Tennessean. "That was tough. But I was glad to get the truth, and it was what it was. When I had three number ones in a row on my first record, I think that made people go, 'Well, maybe we were wrong.'"
See a list of all of Rucker's upcoming shows, along with the opening act and when the tickets will be available, below. Find more information at DariusRucker.com.
Darius Rucker Tour Dates:
* denotes newly announced dates on sale April 22
^ denotes newly announced dates on sale May 6
# denotes newly announced date with on sale information TBA
June 6 Nashville, Tenn. | Ryman Auditorium (Darius and Friends)
June 9 Nashville, Tenn. | Nissan Stadium (CMA Fest)
June 18 Nashville, Tenn. | Bridgestone Arena (Brooks & Dunn Reboot Tour 2022)
June 23* Cleveland, Ohio | Jacobs Pavilion at Nautica (with Tyler Booth)
June 24* Huber Heights, Ohio | Rose Music Center at The Heights (with Tyler Booth)
June 25 Interlochen, Mich. | Interlochen Center for the Arts (with Tyler Booth)
June 29 Anchorage, Alaska | Backyard Country BBQ
July 8 Cavendish, P.E.I. | Cavendish Beach Music Festival
July 15# Memphis, Tenn. | venue TBA
July 16* Rogers, Ark. | Walmart AMP (with Ryan Hurd & Elvie Shane)
July 21 Paso Robles, Calif. | California Mid-State Fair (with Lindsay Ell)
July 22* Phoenix, Ariz. | Arizona Federal Theatre (with Caylee Hammack)
July 28* Bend, Ore. | Hayden Homes Amphitheater (with Tenille Townes & Caylee Hammack)
July 30 Cowichan, B.C. | Sunset Music Festival
July 31 Merritt, B.C. | Rockin' River Music Festival
August 25 Tryon, N.C. | Night in the Country Carolinas
August 26* Wilmington, N.C. | Live Oak Bank Pavilion (with Larry Fleet & Tyler Booth)
August 27* Doswell, Va. | Meadow Event Park (with Larry Fleet & Tyler Booth)
September 2* Bridgeport, Conn. | Hartford HealthCare Amphitheater (with Jameson Rodgers & Elvie Shane)
September 3* Bethel, N.Y. | Bethel Woods Center for the Arts (with Jameson Rodgers & Elvie Shane)
September 4* Gilford, N.H. | Bank of New Hampshire Pavilion (with Jameson Rodgers & Elvie Shane)
September 9^ Tulsa, Okla. | Paradise Cove at River Spirit Casino Resort (with Tyler Booth)
September 10^ Camdenton, Mo. | Lake Ozarks Amphitheater (with Tyler Booth)
Photo Credit: Courtesy of EB Media / Keith Griner