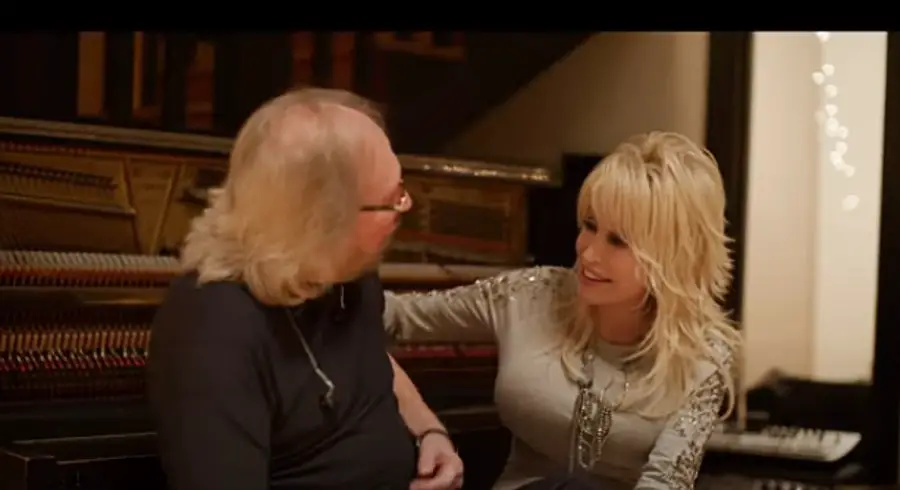 Dolly Parton was one of the numerous guests on Barry Gibb's recent duets album, Greenfields: The Gibb Brothers Songbook Vol. 1, For Parton, the collaboration was especially meaningful because of the lengthy history she shares with the Bee Gees founder.
"This is just a really big honor, because you are responsible for some of history for me," Parton told Gibb, in a behind-the-scenes video of the making of Greenfields. "You produced 'Islands in the Stream' and not only produced it but wrote it, and our friend Kenny [Rogers] … When you called to see if I would sing on 'Words,' that's one of my favorite Bee Gee's songs ever, and I couldn't get here fast enough."
Apparently, the admiration goes both ways, a Gibb also praised Parton for joining him for the iconic recording, which was done live with the musicians in the RCA Studios.
"I'm singing with Dolly Parton," Gibb boasted. "I'm standing in the same spot she stood when she sang 'I Will Always Love You,' and 'Jolene.' She did 'Jolene' and 'I Will Always Love You' on I believe the same day. I got to stand there. That'll make the hair stand on your neck."
"Of course, you can never fault Dolly," he added. "She gives you everything in one take. And she has a wonderful sense of humor … I don't think her feet ever left the ground. I think she's very down to earth. That's what I like to see, where there's no ego."
The recording of Greenfields reminded Parton of how she used to make all of her records, early in her career.
"You know what I got the most out of today, besides working with you? Is getting to work with a live band, here and doing it live together," Parton noted. "You never get to do that anymore. Everything's so technical."
Parton has sung with numerous singers over the years, but says her recording with Gibb will always remain one of her favorite memories.
"This was a joy for me, and a great honor," Parton gushed. "I will always remember this."
Other artists who appear on include Greenfields: The Gibb Brothers Songbook Vol. 1 Keith Urban, Miranda Lambert, Sheryl Crow, Little Big Town and more. Purchase Greenfields: The Gibb Brothers Songbook Vol. 1 here
.*
*Everything Nash has an affiliate partnership with Amazon Music. By making a purchase via links on this page, we may receive a small commission, at no additional cost to the consumer or artist.