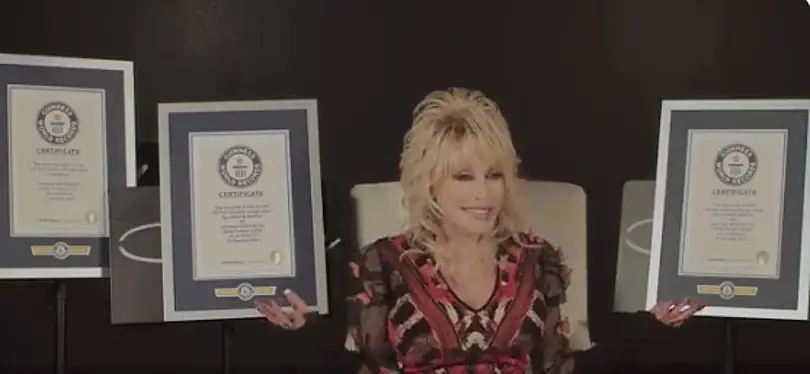 Dolly Parton has set three new world records, thanks to her historic career. The 75-year-old has been named the female artist with the most decades on the US Hot Country Songs, with seven. She also was honored as the country female artist with the most No. 1 songs on the US Hot Country Songs, with 25, as well as for having the most hits on a chart, with 109.
Parton broke her own record set last year, when she had her 108th hit, with "Cuddle Up, Cozy Down Christmas." Her new duet with Reba McEntire, "Does He Love You," set a new record.
Congratulations to country music icon @DollyParton who's achieved three new records! pic.twitter.com/YvsXJo5SY3

— Guinness World Records (@GWR) December 16, 2021
"I feel like a bird that wants to fly away," Parton told the Guinness World Records Association, when asked how it felt to break her own record. "Actually, getting the first one was an amazing thing to me, and I thought getting to be in the Guinness Book of World Records one time would be great. And now that I've got all this going, it's an amazing feeling. I'm very honored, very proud. I've had a lot of people helping me get to here."
Parton might be one of the most successful artists of all time, of any genre, but she certainly isn't boastful about all that she has accomplished.
"This is the kind of stuff that really makes you very humble and very grateful for everything that's happened," Parton reflected. "I had no idea that I would be in Guinness World Records this many times! I am flattered and honored. I've had a lot of people help me get here. Thanks to all of you and all of them for helping me have all of this."
Parton knows that she serves as an inspiration for many, especially rising stars who want to emulate how Parton conducted her life and career.
"It could be because I'm older than music," Parton said with a laugh, when asked what makes her so inspirational to others. "I have just kind of never let up. I've always tried to stay relevant. I've always tried to not follow trends, but stay in the know, and be involved. I would write songs, so many of the people that are following my career now that say I have been an inspiration, are usually young women that really are looking at how I have run my life and my business. That's been an inspiration that has made me proud."
Parton still has plenty she wants to achieve, but she is so thankful for all she has already done.
"I've loved being able to make a living in the business that I love so much," Parton said. "I've been so fortunate to see my dreams come true, and I just hope to continue for as long as I can. You're going to have to knock me down to stop me!"