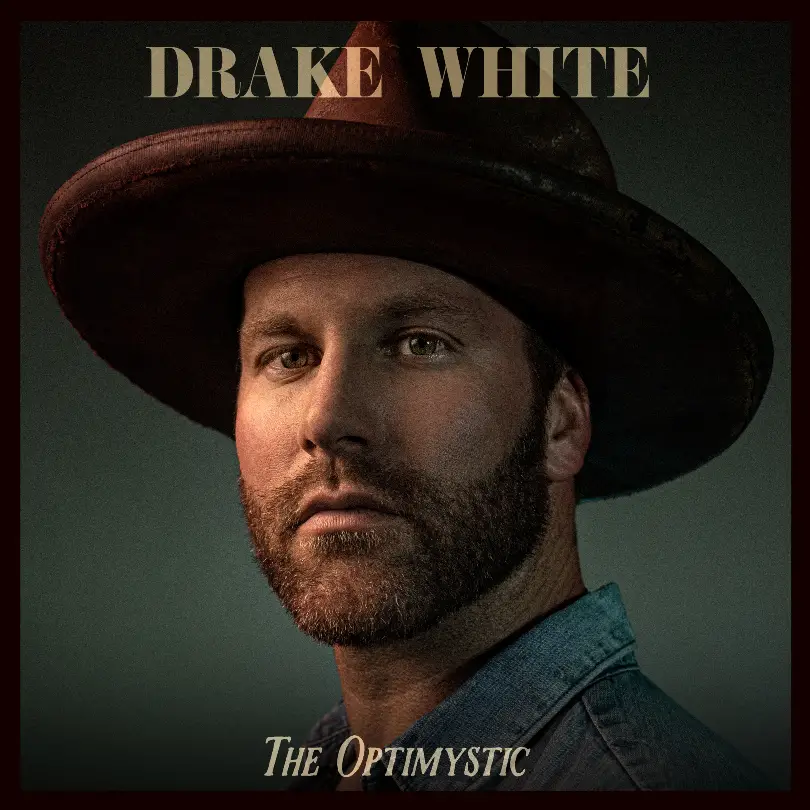 Drake White's 14-track The Optimystic album is out! The record marks White's first full-length release since suffering a hemorrhagic stroke in 2019. The Alabama native underwent multiple surgeries and had to relearn how to walk and use his left side — obstacles that ultimately helped him create his positive new project.
"It's been challenging, to say the least," White shared with Everything Nash and other outlets, during a recent virtual media event. "I've had to keep a good sense of humor about it, because of all of the things that have come our way, and all of the obstacles that we've had — we've had to jump through all the hoops. It's been a life-changing perspective shift, for sure. I always was an optimistic dude, but this was the test. You don't really know if you're optimistic until you go through something that you have to kind of battle-test that."
While White believed himself to always find the silver lining amid even the most trying times, it took his physical challenges to remind others, and himself, that he was still the optimist he always believed himself to be.
"I considered it an opportunity to show my family, and my band, my friends, the industry, the world, my fans … I've preached this from stage since 2011, since I started jumping out there. Now it was time to put the proof to the pudding, as my grandmother would say. The proof is in the pudding. It's in going through things gracefully, and saying, 'I know what doesn't kill me makes me stronger, and I'm gonna keep pushing because the story's going to get better, and I'm a storyteller.'"
White wrote 12 of the 14 tracks on The Optimystic, teaming up with hit writers like Allison Veltz Cruz, Eric Paslay, Randy Montana, Chris DeStefano and more, along with a handful of new writers, to help the record come to life.
"Being here in Nashville, it's all about the songs and the songwriters," the 38-year-old says. "It's the Florence, Italy for the songwriters. I've been so lucky and blessed to meet my people. You come to Nashville and you hit the ground with your boots. You walk down Midtown, you walk to East Nashville, and you walk through these places, and you start meeting your people.
"You start putting your circles together … It is a bit of everything: the known, those not well-known. the friends, the who's-who of Nashville's in there," he adds. "It's everybody, and I love this record because of that. It wasn't one thing or two things that made this thing come together. It was 12 years in a ten-year town, and just being persistent with the songs and with the relationships."
White still vividly recalls the day when everything changed for him. It's a memory that he now looks back on with gratitude, aware that the outcome could have been much, much different.
"About four songs in, we started a song called 'The Coast is Clear,' and I felt my hand starting to grip the microphone tight, but I felt like I was about to drop it," White told Everything Nash. "And then my left foot felt like there was a bowling ball on the end of my foot. It was just super heavy. I couldn't even pick it up. I noticed that I was starting to get really dizzy, and I just started breathing. I started trying to sing and I couldn't get the words out. And I was thinking, 'I think I'm having a stroke. I think something's happened.' And then I heard this loud, like literally a snap right behind my ear. When I did, everything on this left side went black, and my left shoulder drooped down, and they caught me."
White was, fortuitously, near a trauma center, which is how he was able to receive the treatment that ultimately saved his life.
"I didn't fall, but they caught me and pulled me off stage, and put me on a gurney," White recalled. "They had me in the hospital and had an IV administered within 15 minutes. It was an absolute miracle I'm alive. I'll say that a hundred times over. It's an absolute miracle that I'm alive, much less walking and playing and making records again."
White is currently on the road with Whiskey Myers. He will embark on his headlining The Optimystic Tour on April 1 in Portland, Maine.  Find music and tour dates at DrakeWhite.com.
Photo Credit: Courtesy of Sweet Talk Publicity / Zack Knudsen