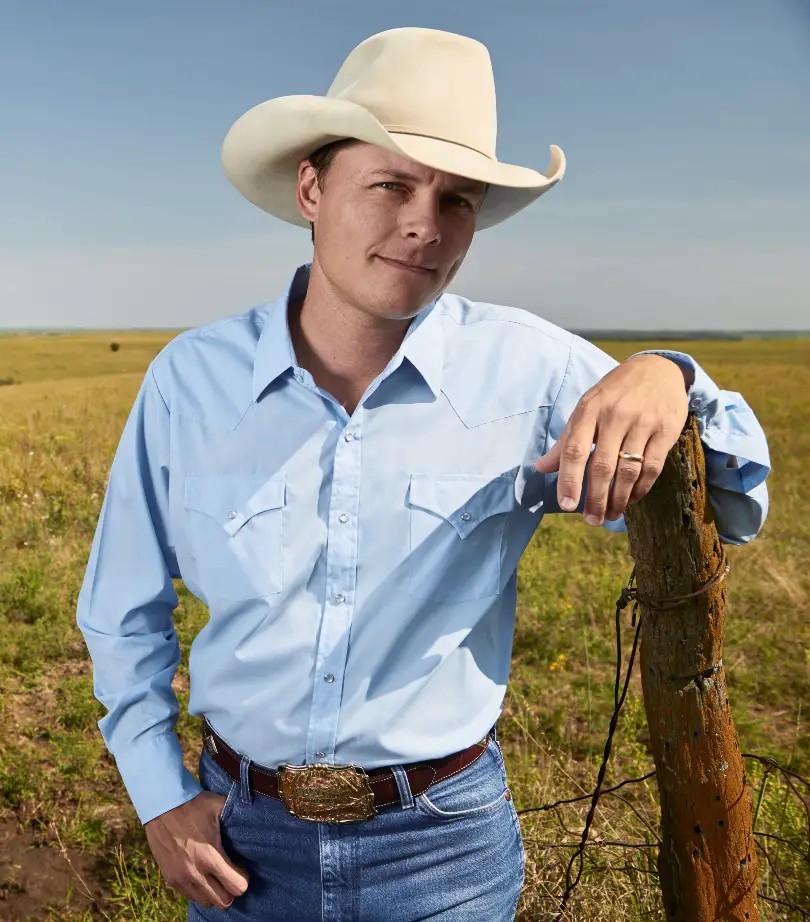 Ned LeDoux's third album is out! The singer-songwriter, and son of the late Chris LeDeoux, just released Buckskin, a 12-track record produced by the renowned Mac McAnally. LeDoux wrote or co-wrote nine of the dozen songs on his new set of tunes, further cementing his path as an artist, after spending most of his life behind a drum set.
"I can't believe I even had one album out, 'cause I was a drummer for 35 years," LeDoux tells Everything Nash. "I played in a bunch of different bands, including my dad's. Five, six, maybe seven years ago, I'd never imagined I'd be in the position that I'm in, writing songs and releasing my third album. It's been pretty fun. And now having Mac as my producer and songwriting pal, it's pretty neat to have three albums in five or six years."
When LeDoux was playing for his father, who passed away in 2005 from complications from liver cancer, he never dreamed that he would be the one in the spotlight. But after losing his father, he realized he had more music in him than being part of a band.
"It didn't happen overnight," LeDoux concedes. "When I was playing drums for dad, I never had any, any feelings of singing at all. I played the guitar a little bit, but I didn't know any songs. It was just a fun instrument to pick up, and you can play the acoustic about anywhere. You can check into a hotel, and pack your guitar in there. But if you start rolling drum cases in, they're gonna raise an eyebrow."
After LeDoux lost his father, he started playing with another artist, Dustin Evans, and his band, when the initial spark of his own career as a singer began.
"We got to hanging out after the show, and Dustin had his acoustic out and was playing some songs," LeDoux recalls. "He handed me the guitar said here, 'Ned, why don't you play one of your dad's?' I said, 'I don't know any songs. I don't sing.' But as I was driving home from Lincoln, Nebraska back to Kaycee, Wyoming, there's a lot of time to think. It's like 700 and something miles. I was thinking that it would be kind of cool to learn just a handful of songs, so if I'm sitting around a cheap motel room or a campfire, I found it kind of romantic to be able to sit on the front porch and just sing five or six songs. That's kind of how it started."
LeDoux is eager to share Buckskin with the world, although his goals for the record are much more personal than just sales numbers and chart positions.
"I never really had a goal of being on mainstream," LeDoux acknowledges. "It would be cool to have a Top 10 song, and all that stuff. I think every songwriter and artist hopes for that, but I'm not losing sleep over it. I just want to put out the best music I can, 'cause there's a big group of people out here, cowboys and ranchers of family farms that get it. I understand there are probably some folks that probably don't understand that lifestyle or maybe even the songs that I write, and that's okay. Hopefully, I can introduce them to that style of life, but I'm just going to continue doing what I'm doing and hope people take a liking to it."
LeDoux might not have his father with him physically, but his influence lives on in the music he now creates.
"My dad and mom have been my heroes since the beginning, and they will be beyond forever," LeDoux boasts. "The things they taught me in life, just growing up with a good work ethic. The main thing is just to do your best, and to live by the golden rule. And if you can do that, you'll be in a pretty good position. They broke the mold after him. The things that he was able to achieve and accomplish in only 56 years, it is amazing. It would probably take like four or five lifetimes to do what he did. I'm proud to be his son."
LeDoux will celebrate the release of Buckskin with a performance at the Grand Ole Opry on March 11. See a track list for Buckskin below. The record is available for purchase at NedLeDoux.com.
Buckskin Track Listing:
1) "The Mountain" Ned LeDoux
2) "Open Road" Ned LeDoux, Mark Sissel
3) "Only Need One" Andy Albert, Rodney Clawson, Jimmy Robbins 4) "Hey Hey" Ned LeDoux
5) "This Ain't My First Rodeo" Chad Roland, Joe Hash
6) "Upside of the Ground" Mac McAnally
7) "Cards In San Antone" Ned LeDoux, Mark Sissel
8) "The Buckskin" Ned LeDoux
9) "He Rides The Wild Horses" Chris LeDoux
10) "Rodeo Dreams" Ned LeDoux, Clay LeDoux
11) "Cowboy Is His Name" Ned LeDoux
12) "Damn Good Cowboy" Ned LeDoux, Willy Braun