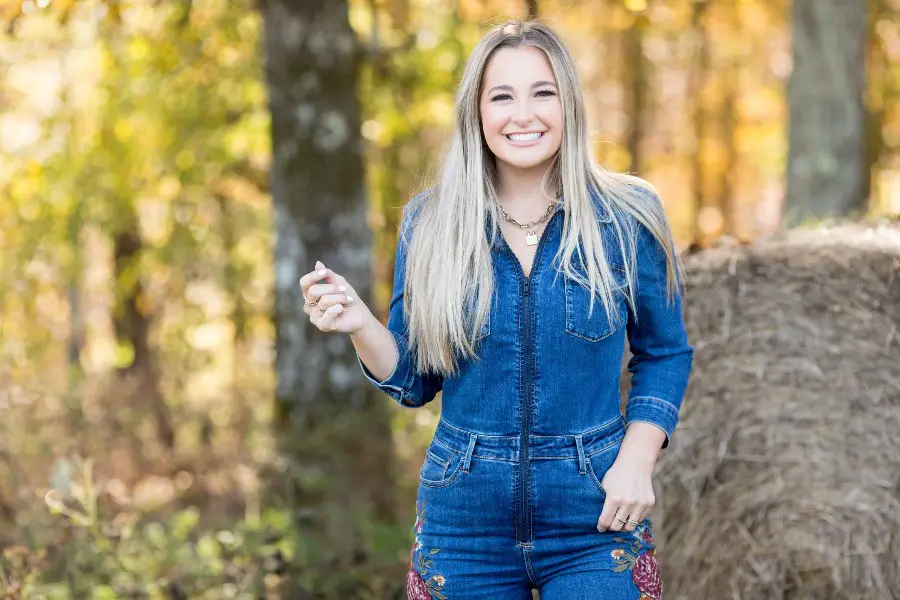 Erin Kinsey is moving full-speed ahead with her music career, with the release of her latest single, "Just Drive." The rising star, who recently signed with RECORDS Nashville, wrote the fun song with Michael August and Josh Ronan, inspired by her relationship with her boyfriend.
"It's probably one of the most personal songs I've ever written, even though it's an upbeat love song," Kinsey tells Everything Nash. "I've been dating my boyfriend for five and a half years. We started dating my freshman year of high school back in Texas. The song really sparked from one Valentine's Day. He was taking me to the Melting Pot, and in high school, there is nowhere nicer you could be going. I mean, that is just the bar. And I remember that I was all dressed up, and I was nervous because I'd never been on a nice date like that."
It was the car ride to the restaurant that became the inspiration for Kinsey's new song,
"We were listening to music off of this date playlist he made, which I mean five stars right there," Kinsey recalls. "Just killing it off the bat. And I remember thinking, 'I guess I want to go to the Melting Pot,' and it was amazing. It was great. But I remember thinking, 'I'm having so much fun sitting in this car with this dude.' We were just driving on the highway through our small town into Dallas and I was having so much fun just listening to music with him. I'm like, 'That can't be normal, because I don't have this much fun listening to music with most people, just genuinely enjoying it.' I remember telling him, 'Man, I'd really be fine if we just like turned back around and came home and just kept driving around.'"
Kinsey was already making a name for herself in her home state of Texas, which is how she signed with Creative Artists Agency in 2016, two years before she moved to Nashville. Kinsey started writing with everyone she could, slowly making a name for herself in Music City as well, even before she made the big move to pursue music full-time.
"By my senior/junior year of high school — I graduated early, so I never know what to call it — I was coming up to Nashville almost every month, and I would spend the whole summer here," Kinsey says. "So it does feel like it's happened really quick since I came to town, but it has been ten years of me just working and taking lessons and learning everything I can about the industry, and about music. It's just been really, really cool to see everything that I never thought would happen, happen."
Included in Kinsey's string of successes is co-writing the song, "Pink" with Victoria Shaw and Jodi Marr, which Kinsey got to sing on the Grand Ole Opry, alongside Shaw and actress Rita Wilson. She also got to witness Dolly Parton sing the song, during the recent Kiss Breast Cancer Goodbye event, held in October at the Country Music Hall of Fame.
"So many people have asked, 'Was that a bucket list cut for you as a songwriter?' And no, that's something you think is so impossible," Kinsey says. "There's no point in even thinking it could happen or would happen. And the fact that it has happened in a short amount of time, for me, it's just wild."
Find "Just Drive" and all of Kinsey's music by visiting her website.
Photo Credit: Courtesy of Monarch Publicity / Sara Kauss