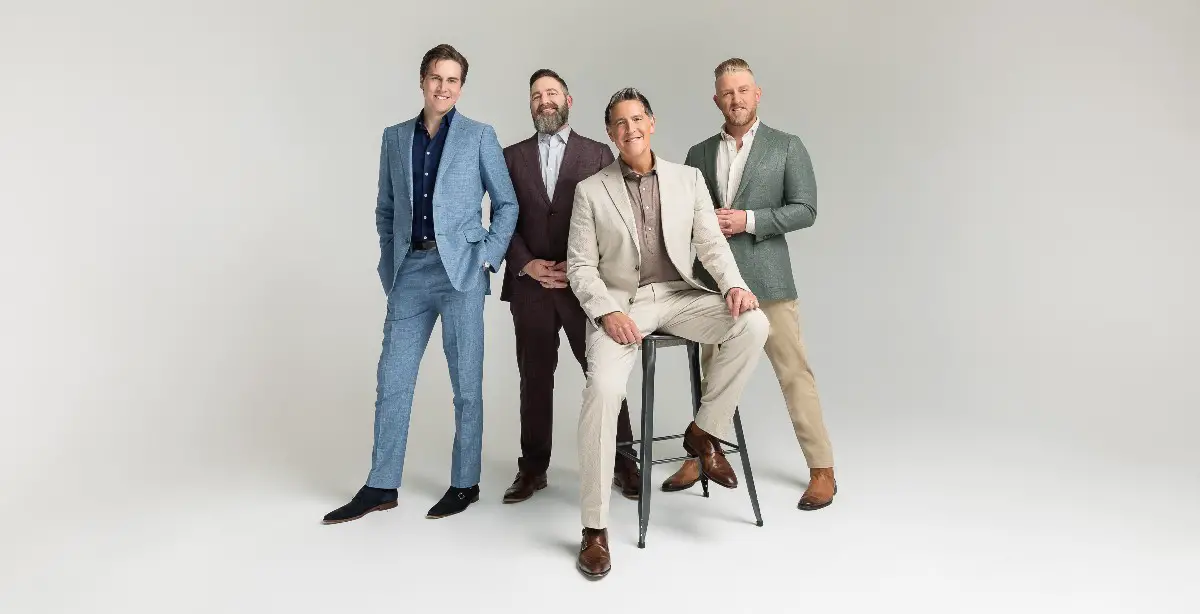 Ernie Haase & Signature Sound have a brand-new album out! The 14-track record, Keeping On, is both a nod to Haase's early days in Southern Gospel music, as well as a look ahead at what fans can expect from them in the future.
"After The Cathedrals retired and I started Signature Sound, I just wanted to create songs," Haase tells Everything Nash. "When I get in the studio, I want to find the right musical bed for it to feel like it lays down the foundation of it. And so with the new record, Keeping On, we explored new foundations, new sounds, not just to be new, but things have to move forward."
Haase wrote nine of the 14 tracks on Keeping On, with many of the songs inspired by the challenges the pandemic brought in 2020.
"It was more important this time than ever," Haase shares. "Typically I try to limit it to two or three, because I don't want to be that guy that just says, 'I only do my own stuff.' But after coming out of the year we had, and coming out of this complete lockdown of music in live concerts, I felt like God just poured creativity into me, and so I was writing more than ever. I just didn't turn it off. It just kept flowing."
Haase wrote so many songs that he actually wasn't able to include them all on Signature Sound's latest album, which could end up being a blessing in disguise.
"We left three or four songs of mine on the table," Haase reveals. "I actually pitched one to another group. I've never done that, so I was excited do it. Somebody else is going to record one of those songs that came out of that dark time. The songs aren't dark, but they came out of a dark time."
It might have been hard to create and record music when much of the world was struggling in so many ways, but he also learned plenty in the process.
"I think everything great, spirit-filled, light-filled has to come from darkness," Haase reflects. "That is our best teacher … I've never written a song after getting an award or singing into a packed house, or any of those mountaintop experiences that we all shoot for. We all say, 'I'd love to experience that.' I never sit down and say, 'I love being on the mountain. I love when everything's good.' It's that dark times that the light is poured into you. It takes you out of the darkness, then you write about it. And then hopefully those songs on Keeping On, songs like 'Overcome,' songs like 'Morning Song, 'Wake Up,' they'll came from the dark times that people can turn on and say, 'I see the light. That light is Jesus.'"
Being home in 2020 changed Haase in a lot of ways, for the better, refocusing his priorities and reminding him of what is most important to him in life.
"I want to continue to make great music and write. I've always been guided by what I want to do," Haase shares. "I still want to make great music. I still want to sing, but I want to be home. I've been such a road hog, just constantly on the road. This last year taught me that I can be content not being on a stage. Being with my family, being present at a dinner table not texting business. Just being home."
Ernie Haase started Signature Sound not just to be able to sing, but to write songs as well, songs that could serve as an inspiration to others.
"I want to sing the best material that can bless people, that can help them in their faith walk, and help them wake up each day and say, 'I've got to hear that lyric. I've got to hear that music to get me going,'" Haase reflects. "And so that's my guiding force."
Purchase Keeping On at ErnieHaase.com.