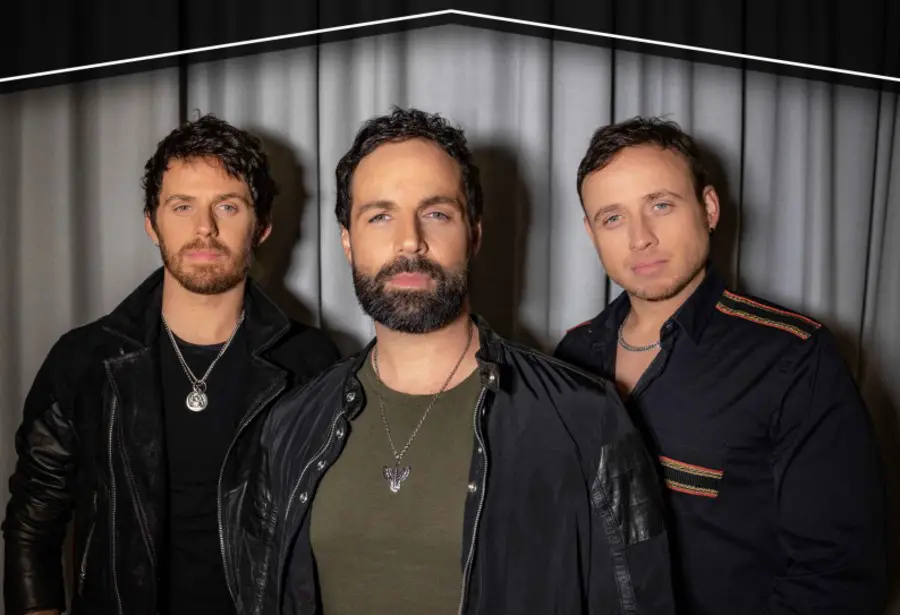 Essex County released their debut single, "So Good," in March. The song, which is the title track of their EP,  released in July, helped the sibling trio, made up of British brothers Nate, Mark and Kieran Bass, amass more than three million streams — an impressive feat for anyone, let alone a new act from another country who has been unable to travel or tour because of the coronavirus pandemic.
Their hearty reception in the United States, and beyond, is a bit overwhelming for Nate, who admits he still like physical copies of music as opposed to listening online.
"I'm a bit of an old school person," Nate tells Everything Nash. "I love CDs and cassettes still. That's what I love. I have suitcases full of all these rare records and everything. That's me. So for me, as a Spotify user or one of these streaming platforms, it's so new to me and I don't really know how you judge, if you're doing well or not, so I've been learning all that, and seeing the stats and the numbers and everything."
Essex County might just be making their mark in the United States, but they've been making music for years, thanks to a providential gift Mark received as a child.
"My middle brother, Mark, he picked up a guitar basically because he wanted to play it because it looked delicious," Nate recalls. "Being 11 and seeing Mark Knopfler's red strap on the telly, it looked like a piece of candy. That was Mark's thing. And I remember him saying, 'I'm going to play it really well.' And it did look lovely, so he just pestered Dad. 'Dad, go get that guitar. I want that guitar.' So Dad went to like a pawn shop, and basically bought him a cheap, just a crappy replica of one of those and was like, 'Just play that until you get bored of it.'"
Fortunately, not only did Mark not get bored with it, he excelled at the instrument, and was named Guitarist of the Year as a child, setting the brothers on an early path to success.
"From there we ended up basically getting a record deal, and becoming this kind of pop icon band," Nate recounts. "We were more like a British version of Hanson. I was on the drums; I've always been a drummer, and Kieran started playing the bass. We just started becoming this very youthful band. We got with some producers who made the music, and then we had a No. 10 in the charts. We had a No. 3 in Asia. We were touring with Britney Spears and the Backstreet Boys and all this stuff."
Essex County might have become a big pop act overseas, but their love has always been country music.
"During all of this time,  mom and dad were on tour with us," Nate shares. "They used to play the music they loved in the car anyway, which was a lot of country. So they would listen to all kinds. Hal Ketchum, that tape went on and on and on. And then there was Dolly Parton coming out, and then there was the early days of Rascal Flatts and early Keith Urban and Sons of the Desert.
"We would listen to all of these obscure CDs, because I would just go into pawn shops basically and buy all the CDs that looked cool to me," he continues.
Essex County just released their own version of "Last Christmas." Find all of their music at EssexCountyBand.com.