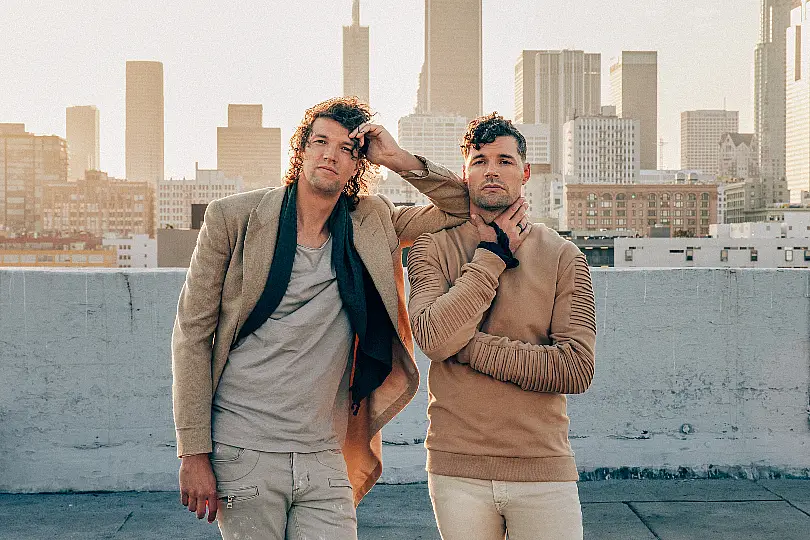 For KING & COUNTRY couldn't be happier, or more content, with where they are right now. The sibling duo, made up of brothers Joel and Luke Smallbone, just released their fourth studio album, What Are We Waiting For?. And for the first time in their joint career, both Joel and Luke feel a peace that can only come from all of the shared experiences that have led them to this moment.
"We feel settled," Joel tells Everything Nash. "The first record you're like, 'We might never get to do this again.' And the second record, you've got this sort of sophomore slump thing. And then the third record, I think for us, it was a deeply personal record, but it was also the third record. It has to be something special or remarkable. And then this one, the combination of being at home when we recorded it, because of the pandemic, and when we wrote it as well, we were home. And then, we just celebrated ten years of being a band. It's, 'Oh, this is good,' which is funny because you feel that with us not having a job for the last year or two years, in some ways it should feel different, but it actually just feels really settled."
For KING & COUNTRY released their debut Crave in 2012. At the time, the brothers had performed with their sister, Rebecca St. James, before beginning to sing together on their own.
"The first one definitely is a frantic push of just, 'Are we good enough?'" Luke reflects. "We wrote it over five years. I think that's what you're always asking yourself is, 'Am I actually able to do this for a living?' That's what you're asking the first time, and you're trying to figure out a way. I think you're, along the way, also trying to find out a little bit of who you really are, because you're writing these songs, and you've got a lot of time to write them. And then things start to hit, and then you're starting to go, 'Well, how am I gonna present this music on stage?' Even just what you wear,  what you say in an interview, you've got all of these things you gotta figure out. So the first albums are probably they're the most stressful because that's chapter one, and the first chapter is very indicative of the rest of the story."
While staying home because of COVID-19 was not easy for them, in hindsight both Joel and Luke feel gratitude for the way their time off the road indefinitely helped create and craft What Are We Waiting For?.
"I think it would be a starkly different record," Joel maintains. "Burn the Ships, for example, was really personal. There was something about that, that we just said, 'If it's not a deeply personal story, we're not even gonna put it on the record.' The pandemic, I think, first of all, turned our lens much more global. So songs like 'Relate' or 'Unity,' or even 'Together' in some ways, were that sort of wider feeling. I think it became the most family record we've written content-wise. Like 'Unsung Hero' is about mom and dad, or 'Cheering You On' is about Luke's son. 'Seasons' is about our wives. It was directly tied to I think doing life in close proximity, being home more than we have in our adult life."
For KING & COUNTRY kept What Are We Waiting For? personal to them, while also understanding the great spiritual crossroads many people were at, especially in the last couple of years because of the pandemic. It was a responsibility Joel and Luke took seriously, to share their faith in a way that could also help others.
"With songs like 'Benediction or, or 'For God Is With Us,' it's more overt," Joel says. "I feel like even in some ways more than in the past, I think that God's been sort of put on the stand a little bit in the pandemic of, where is God in great tragedy? So we kind of did a bit of a deep dive in looking back through history and going, 'Where was God in the darkest days of humanity?' You see him in retrospect show up in these radical ways. Namely, obviously, 2000 years ago, He literally showed up.
"I think that all of that, coupled with the fact that again, we were home. We weren't in the back lounge of a tour bus with a studio on the road,' he adds. "We weren't in a dressing room. We were home writing and recording this. So there's a sort of stillness that that created."
For KING & COUNTRY will embark on a 34-city tour, kicking off on March 31 in Southaven, Mississippi, and wrapping up on May 22 in Franklin, Tennessee. Find What Are We Waiting For? and all of their upcoming shows by visiting their website.