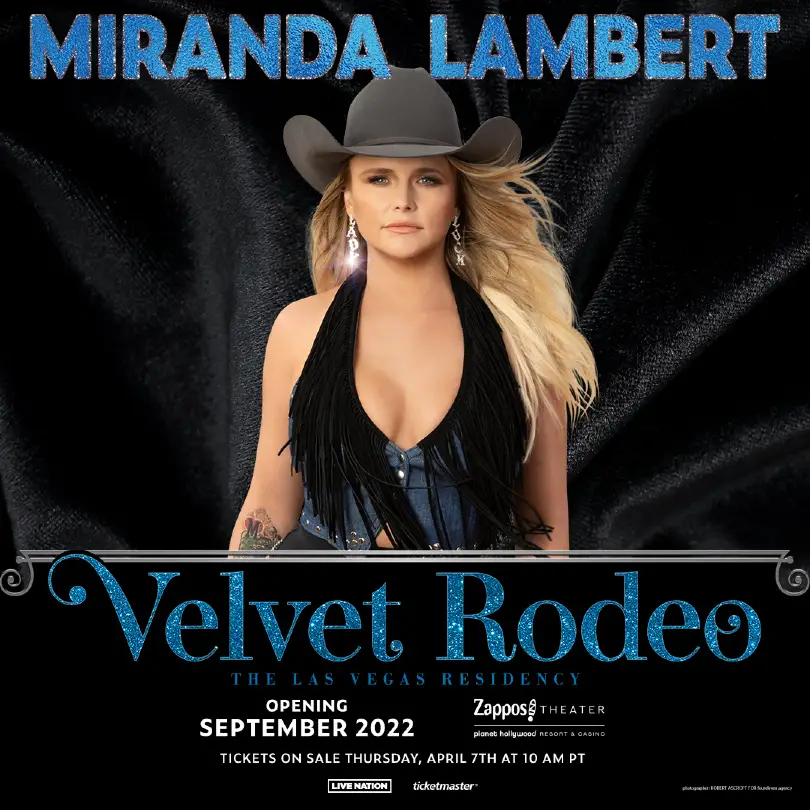 Miranda Lambert is heading to Las Vegas! The reigning ACM Entertainer of the Year is joining the ranks of artists like Luke Bryan and Carrie Underwood, with her own Velvet Rodeo The Las Vegas Residency, which will be held at Zappos Theater at Planet Hollywood Resort & Casino. Lambert's 24-show residency will begin on Friday, September 23, 2022, and wrap up on April 9, 2023.
"When you've been touring as long as I have, there's something really creative about imagining a residency in a city like Las Vegas," Lambert says." "I've had a lot of fun designing our sets, merchandise and clothing and boot lines – and even my place on Broadway in Nashville, Casa Rosa – so, this opportunity allows me to lean in a bit more into that side of myself and think about how to really bring country music to life in this room. I think everyone will like what we've dreamed up. I'm really excited about this!"
For an artist who has historically made her shows all about the music, without the usual costume changes or elaborate set design that most artists use for their live shows, the Texas native admits she is still unsure what her Las Vegas shows will look like.
"I'm nervous in a good way," Lambert reflects to Rolling Stone. "But what does that look like? Is this a time where I go through the journey, from [Kerosene] to here? Do we focus on certain songs or moments in a career? Because a lot of these aren't just songs. They're huge moments for me, like when I set fire to the stage at Madison Square Garden, my first TV performance after Nashville Star. That was a doozy."
Lambert wrote all but one of the songs on her upcoming Palomino album, out on April 29.
"The making of this record has been one of the most fun and creative experiences of my career," Lambert said of the record. "Luke Dick, Natalie Hemby, and I went out to my farm in Tennessee in 2020 and started writing songs. We figured while we have time let's get out to the country and see what happens. The first one we wrote was 'Tourist,' and that set us on a path to create something with a bit of a theme. Since we couldn't travel at the time, we decided to go on a journey through songs."
See a list of all of Lambert's Las Vegas residency shows below. Find all of her tour dates, and order Palomino, at MirandaLambert.com.
Velvet Rodeo The Las Vegas Residency Dates:
September 2022: 23, 24, 28, 30
October 2022: 1, 5, 7, 8
November 2022: 26, 27, 30
December 2022: 3, 4, 8, 10, 11
March 2023: 24, 25, 30
April 2023: 1, 2, 6, 8, 9