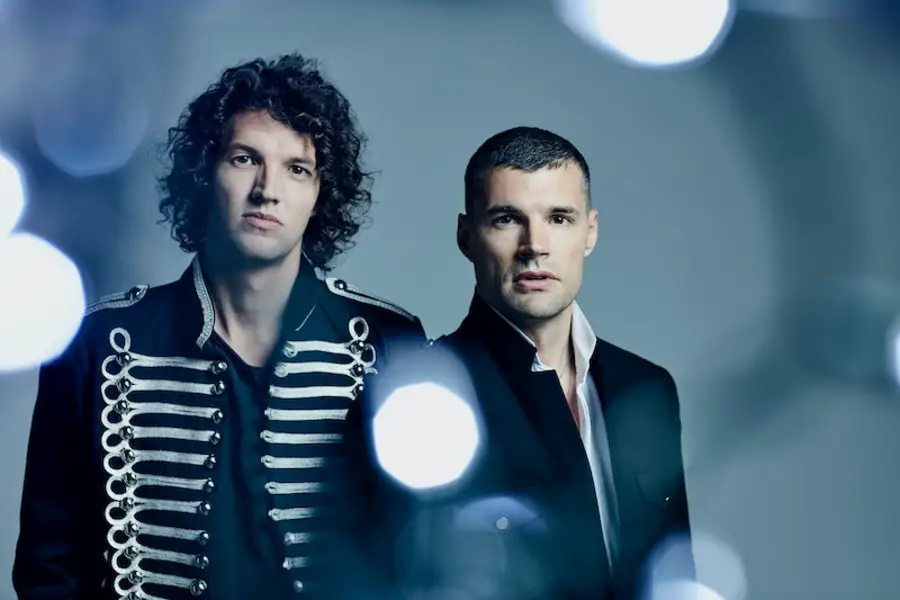 For KING & COUNTRY have a new song out, "Kingdom Come," with their own sister! The sibling duo, made up of Joel and Luke Smallbone, join their sister, Rebecca St. James, on the new song, which is the title track of St. James' upcoming album, scheduled to be released on February 18.
"Kingdom Come" is a bit of a full-circle moment for the pair, who got their start working for St. James, during the early years of her career, 30 years ago.
"We learned the ropes of music and fell in love with music under her tutelage, if you will," Luke tells Everything Nash. "The joke was that Dad needed cheap labor. When we were teenagers, he has five sons, and he put us to work as a road crew. Now, as a band, and with Rebecca doing music, it just seemed timely to, for the first time ever, actually release a song together.
"It's really us coming around her as she came around us all those years ago, and lifting her up as best we can as brothers, in writing and recording a song," he adds.
For KING & COUNTRY has released both "Relate" and "For God Is With Us," from their upcoming What Are We Waiting For? album. They are currently on the road, on their Fall Tour, and will then embark on their A Drummer Boy Christmas Tour, which kicks off on November 27.
"We were able to take the first bit of this year and really create a lot of music," Luke shares. "We were already going to be home anyway. It's the first album we've ever created at home. Usually, it was out on the road, kind of in-between. So it has been pretty thrilling to actually just sink our teeth into what it looks like to dwell on music at home … We're thrilled with what we've kind of stumbled upon."
For KING & COUNTRY of course missed being on the road during the pandemic, like every other artist. Still, they found solace in the large amount of time to create, even if it was a bit of a double-edged sword.
"I'll be really honest: we were okay," Joel concedes. "If anything, we had a bit of a survivor's remorse. Luke has said that if you didn't feel really pinged by the pandemic on some level, you're in a very small percentage of the world. It gave us an opportunity to be home. But I think as a result of that, we felt a real responsibility to not only do cyber events, buit we did I think 60 drive-in shows last year, and we've released what will be as of March 11th, two albums in this time … I think we're stronger than ever as a team because of the last year."
For KING & COUNTRY recently won three Dove Awards, for Artist of the Year, Longform Video of the Year for "Burn The Ships Concert Film" and Christmas / Special Event of the Year for A Drummer Boy Christmas.
What Are We Waiting For? will be released on March 11. Find all of their music, as well as tour dates, at forkingandcountry.com.
Want to watch more exclusive artist interviews? Click HERE to subscribe to our YouTube channel.