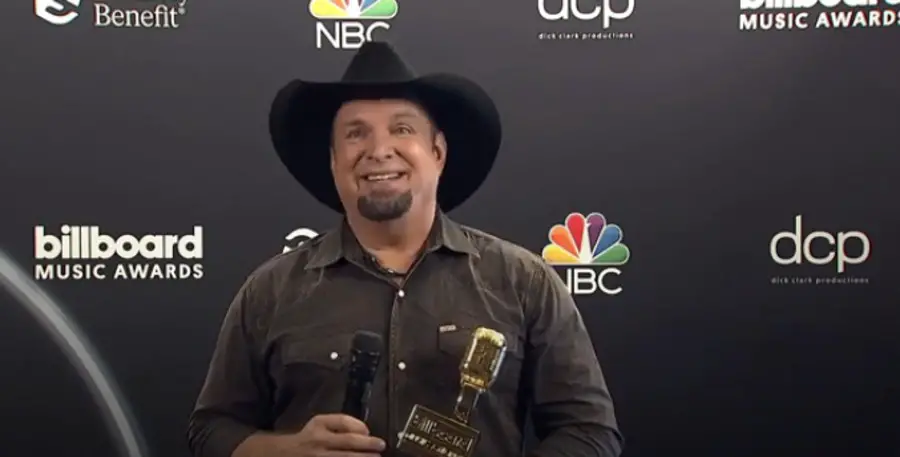 We still don't have an official release date for Garth Brooks' upcoming Fun album, but he promises, when it is finally released, it will be worth the wait.
"I mean, there's a reason why we named it 'Fun,' because every time you were in the studio — and this has been going on for a year and a half — so every time you were in the studio, people go, 'How's it going?' You go, 'It's really fun,'" Garth said backstage at the Billboard Music Awards. "And it just keeps going like that. With songs like 'Hard Way To Make An Easy Living,' about guys just thinking they can make an easy living play country music — it's a fun story. It's exactly the same story we all live. And then, songs like 'Party Gras' and even songs like 'Amen,' and just they're just fun; they're uplifting."
Fun will also include a duet with his wife, with "Shallow," which he says was originally his fans' idea.
"The big one that's coming is 'Shallow,'" Garth shared. "I think the people kind of talked us into trying that. I would have never thought of it, but after hearing Trisha Yearwood singing it, that's a record must right there. I'm really proud of that one."
Garth was at the Billboard Music Awards to receive the Icon Award, which was presented to him by Cher.
"The award is very, very sweet, and will never be taken for granted," Garth said. "But the fact that someone spent their time, especially during this time, when it's a pain in the a– to go anywhere, and she does this for me, for Billboard, that's a sweet gesture from artist to artist. It almost makes you feel like you're on the same level, but don't worry, I know I'm not that cool."
Garth may have received the Icon Award at the Billboard Music Awards, but he won't be receiving a CMA Award this year. The 58-year-old removed his name from the list of contenders in the Entertainer of the Year category, which he has won a total of seven times, and did not receive a nomination in any other category this year.
"There's one tweet in there that really stuck in my head," Garth said of his decision. "It said, 'Hey, man. This guy, why doesn't he just step down and leave the entertainer for the next generation?' 100% agree … With all the love in the world, we are officially pulling ourselves out of Entertainer of the Year.'"