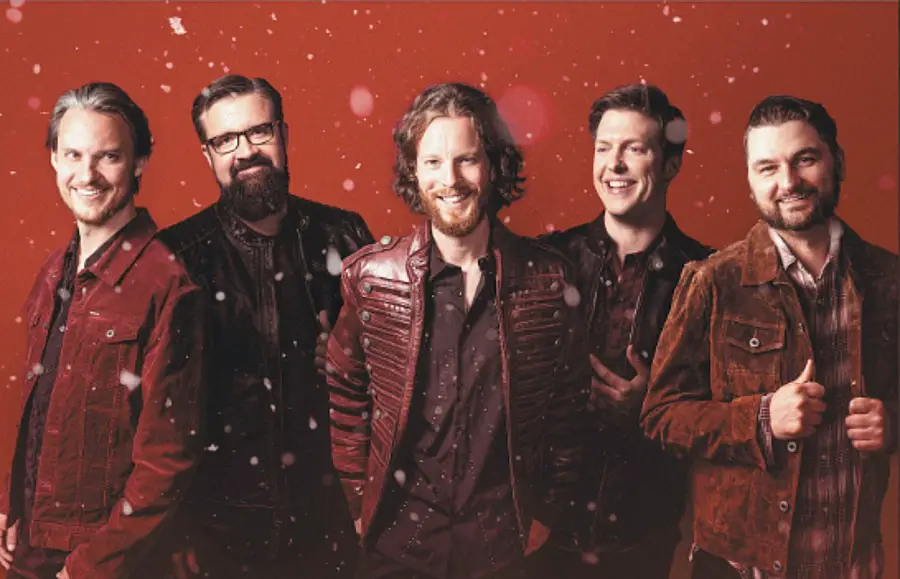 Home Free has released a new song in advance of the November 6 release of their upcoming Warmest Winter album. The five-man group just dropped "Christmas in L.A.," an uptempo holiday tune that showcases Home Free's intricate harmonies.
"Christmas in L.A." is one of 12 songs on Warmest Winter, which features  seven cover songs and five originals, including "What We Need Is Love," penned by Home Free's own Tim Foust, along with Ernie Halter. Although Home Free has released several holiday albums, band member Rob Lundquist says there were still too many Christmas song to easily be able to narrow down which ones they wanted to include on the new record.
"It was extremely hard to narrow down songs because we have already recorded so many, and there are still so many to choose from," Rob Lundquist told Everything Nash. "We all brainstormed for weeks to see what covers we wanted to do, all the while Tim Foust and Austin Brown were doing writing sessions around Nashville, trying to come up with things for the record. I think every song that they presented we loved. We ended up using two of Tim's and two of Austin's, and they are awesome."
Although Home Free has unexpectedly been home this year, they typically spend most of their time on the road, which is why they holidays are especially meaningful to them.
"No question, each of our favorite parts about Christmas is being able to spend time with our families," Rob explained. "Aside from this crazy year, we are typically touring non-stop, and Christmas is a time that we take off a substantial amount to stop and refresh and celebrate with our loved ones. Now that I'm a dad, Christmas has become my favorite time of year, just getting to see the excitement through the eyes of my kids."
Home Free is working on a spectacular Warmest Winter holiday special, thanks to the generous support of their loyal fans, dubbed Home Fries. After raising their initial goal of $75,000 in only nine hours, Home Free added several more incentives, with the promise of an extended holiday special, by 15 to 20 minutes, if $200,000 can be raised.
"Home Fries, you never cease to amaze us, but you've outdone yourselves this time," Tim said in a video Home Free shared on social media. "We were so excited about the possibility of hoping to be able to do something like this Christmas special, and as always, you've exceeded our expectations. In such a crazy year like this, your generosity has been an unbelievable boost to the morale of the entire Home Free team and family, so we cannot thank you enough. Thank you, thank you, thank you."
Pre-order Warmest Winter at HomeFreeMusic.com.