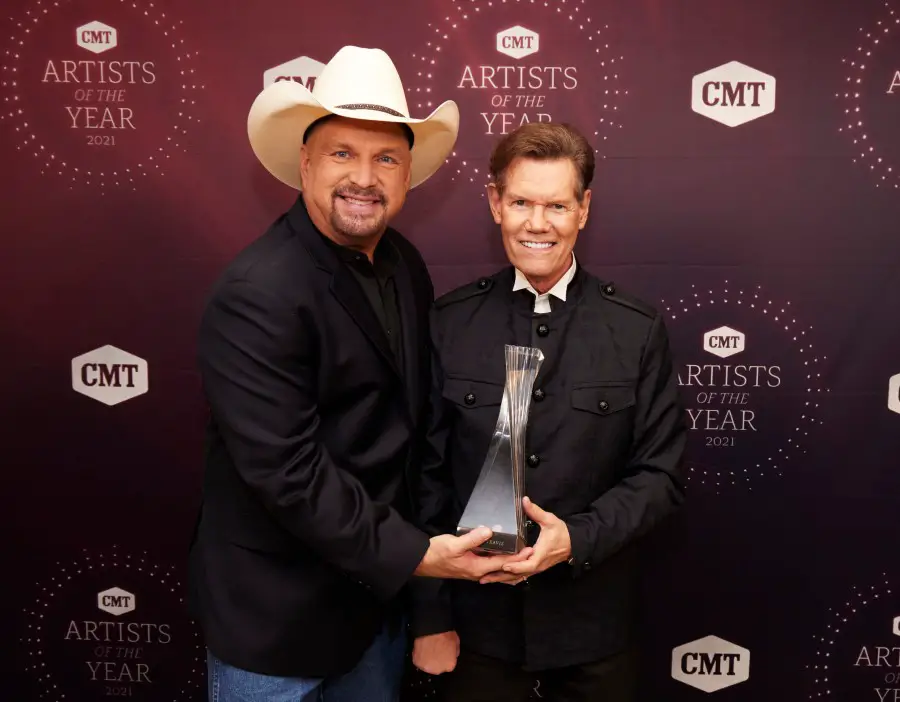 Garth Brooks had the honor of presenting his good friend, Randy Travis, with the CMT Artist of a Lifetime honor, as part of the CMT Artists of the Year ceremony. During his speech prior to the presentation, Brooks praised Travis as being the person who made country music thrive today.
"I stand here before you tonight as one of the benefactors of this man's contribution to country music," Brooks said. "I've said it before and I'll say it again: 'Randy Travis single-handedly saved country music.' Even though it happened in the '80s, still today, I wouldn't be standing here if it wasn't for Randy Travis. I don't think any of us would be. This is totally my opinion — it doesn't have to be yours — but every artist in country music that takes the stage over the next hundred years should bow to this man and thank him for his contributions to country.
"I love him," he added. "Artists like this one only comes along once in a lifetime, and I know if you're like me, you pray that another Randy Travis shows up every day."
Travis accepted the honor with his wife, Mary, who spoke on his behalf.
"There's so many people Randy would like to thank," Mary said. "The stroke, the aphasia from the stroke, it may have taken his voice, but it didn't take the man, and it didn't take the heart. And you know what else? It didn't take the music. We'll have that forever and ever, amen. God has been so good to us, and I know that Randy, if he could speak to you tonight, there's so many people that he would like to thank for this long trail and this wonderful career he has had. It starts with his Lord and Savior. Obviously we have great faith."
Prior to the ceremony, Mary was emotional as she reflected on the honor her husband was about to receive.
"You start out as just as an artist that is recognized, and then you are maybe the Vocal Artist of the Year, and then you get all sorts of awards along the way, and then you get Artist of a Lifetime," she said. "Lifetime's a long time, and it's absolutely wonderful. I'm so proud of him, and he broke down when he heard about it, so it meant a lot to him."
Kane Brown, who was one of the artists honored during the ceremony, performed "Three Wooden Crosses" in tribute to Travis. Watch his performance here.
Photo Credit: Getty Images for CMT