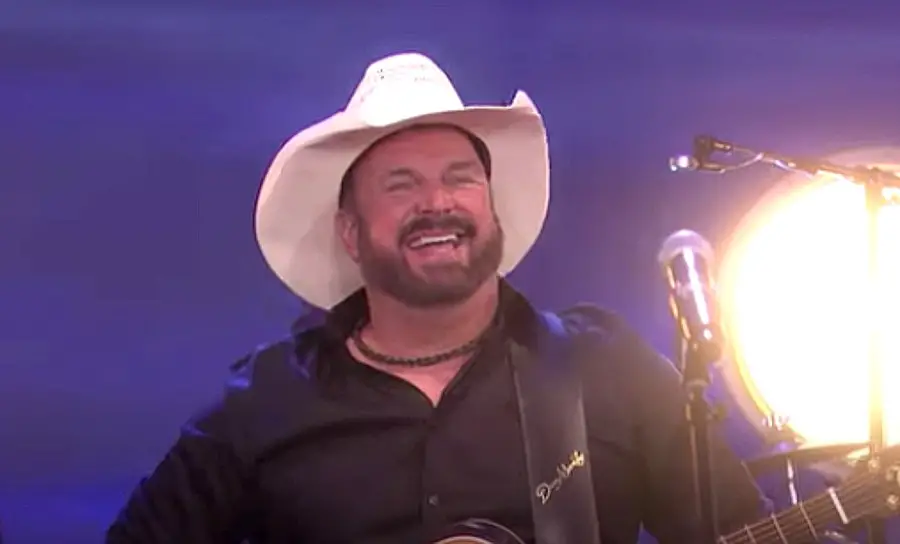 Garth Brooks was one of the first artists who returned to touring as cases of COVID-19 declined across the country, but he isn't afraid to be one of the first to step away from the road if cases of COVID-19's delta variant continue to rise. The Country Music Hall of Fame member, who had to postpone his show last week at Nashville's Nissan Stadium due to severe weather, says he is keeping his eye on the numbers, vowing to do whatever keeps everyone safe.
"As much as I would hate to do it, it'd be an honor because you feel like you're doing your part," Brooks tells People, saying he would "stand down again" if that was the right thing to do. "We were lucky enough to survive last year. We'll pull together and survive this year if everything shuts down [again]."
Brooks urges patience, for everyone, as the world watches the virus continue to ebb and flow.
"Every day, the reports we get change because it's the first time anyone has been through it," Brooks says. "What I'd love to see all of us do is have the patience to read those changes instead of jump on them and use them for our argument. We should see where this thing's going."
More than anything, the 59-year-old wants to see the nation come together in their response to COVID-19.
"You have to divide the enemy to defeat them, and this virus has us divided," says Brooks. "My thing is just patience. You have to listen and be over-the-top careful. Hopefully, you'll never regret that."
Brooks, who is scheduled to mark his first performance at Lumen Field in Washington next month, previously said he knew some people would wear masks and some would not at his show. Regardless of whatever his fans do, Brooks' biggest wish is that, at least for a few hours, everyone can forget all of their troubles.
"My wish is … we do everything safe so [fans] can enjoy [the show] and not sit in the stands and be scared," Brooks maintains. "We're all coming down from this at our own speed. I hope people can come [to a concert] and let it all go."
All of Brooks' upcoming shows can be found at GarthBrooks.com.