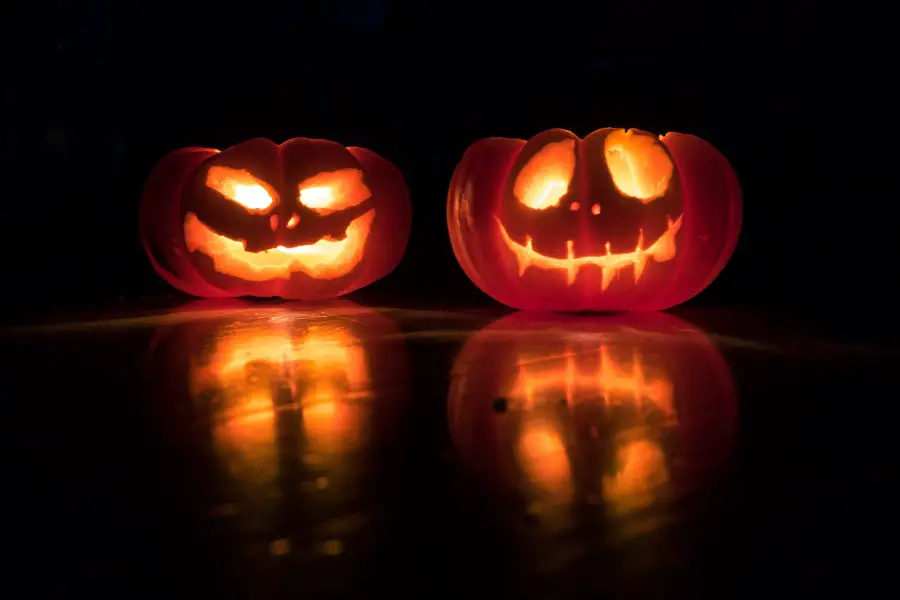 Halloween falls on a Sunday this year, which seems to be the perfect day for the holiday to be truly celebrated. Whether it's the costumes or the candy, we found several country stars who have fond memories of Halloweens in the past, or enjoy creating new traditions with their own families.
"We go really hard on holidays," Rhett tells BMLG. "If you were to come to our house today, you would see Halloween decorations inside and you would see a ton of Christmas lights already put up outside. So, we kind of get ready for multiple holidays at the same time. We've been watching Hocus Pocus and Halloweentown, and carving pumpkins and baking pumpkin seeds, and already got all the girls' costumes ready to go. And so, we definitely love Halloween."
"He's gonna be Velociraptor Blue," Kelley says of the costume for his son, Ward. "He's really into dinosaurs, so he's this Jurassic Park character. And I'm Owen the trainer (played by Chris Pratt in the movie),. And Cassie is Claire, the park manager (Bryce Dallas Howard's character in Jurassic Park). So, we have our family costumes. They're ready."
"I'm joining in with my three-year-old, Lillie," Haywood reveals. "She's gonna be Belle and I'm gonna be The Beast. So, I've got my costume, my little Disney Beast costume, and she's got her Belle dress and jewelry ready to go, and we're excited about it. My son wants to do like a Minecraft thing. I know a lot of his buddies are playing it too, but he's doin' a Minecraft sort of costume."
"One costume that sticks out to me from my childhood was I decided to go as Judge Lance Ito, who presided over the O.J. Simpson trials, as like a whatever-grader I was," Stell recalls. "I don't even know why I thought that would be a good idea, but my folks helped me execute it I guess. I wore like a graduation robe and carried a hammer.
"I love Halloween," Hurd admits. "When it comes to haunted houses, I am a 'hard pass' kind of person. And it's not cause I'm a huge wimp, but maybe it's 'cause I'm a huge wimp. Maren loves like scary movies and stuff, and I don't mind scary movies, I just usually choose something different. My favorite scary movie ever is What Lies Beneath with Harrison Ford. It's absolutely terrifying cause it seems so real."
"I have no idea what they're gonna be for Halloween," Moore says. "I know one of them mentioned – I don't remember which one – one of them mentioned our whole family doing the whole Despicable Me. So, Gru and the Minions and the three daughters and all that. So, we'll see what I get roped into this year."
"I mostly didn't dress up," Ramsey says. "I mean I did when I was really little, and the only real costume I remember was like a hunchback guy. I was jealous of my brother's Headless Horseman costume. They have costumes for that now that make you look headless, but back then they didn't. It was a little annoying because you had to lead him everywhere. e committed to the bit! He had a vest that he just zipped up and it went up over his head, and he carried around a pumpkin and he couldn't see a thing. He trick-or-treated the whole time blind, and I was jealous."
"My favorite Halloween costume that I've ever worn… we played VooDoo Fest in New Orleans. And I hired a full team of hair and makeup people to come and turn myself and my band The Brethren into like 90-year-old people. So we did the entire, hour-long hot festival set. I walked out with a walker, it was probably one of my most favorite costumes I've ever done. It was so much fun.
"Well, we did a few things when the kids were growing up," McGraw recalls. "I was Captain Jack one year and I had a full-on like, a friend of mine from LA who does costuming for movies sent me a whole Captain Jack get up. So, I had the authentic sort of looking Captain Jack. And then one year we were George and Martha Washington, Faith and I. And the kids were all sort of colonial dressed little girls."