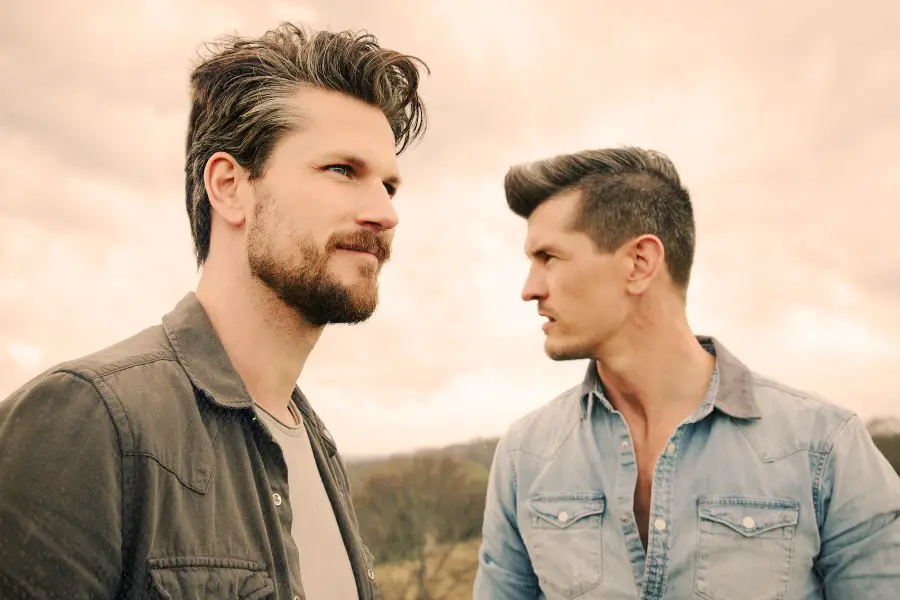 If there was ever a good time for High Valley to release their Grew Up On That EP, it's now. The duo, made up of brothers Brad and Curtis Rempel, released the six-song project on Friday, May 22. Although all of the songs were written before the coronavirus pandemic impacted the world, including the poignant "River's Still Running," there's never been a better time for High Valley to share the inspiring songs than now.
"There are different ways that we chose all the songs, but always with that same High Valley filter of, 'Is this something that we can say with authority of being real, and is it also a message of bringing families together, and something positive that the world needs?" Brad told Everything Nash. "If we could say yes to both of those questions, then that helped us narrow down the pile from hundreds of songs, slowly but surely all the way down to six."
Brad co-wrote five of the six songs, with one song, "Your Mama," written by Florida Georgia Line's Tyler Hubbard. But even though Curtis doesn't write the songs, he still has to approve of all of them before High Valley will consider taking any of them into the studio.
"We kind of have this filter," Curtis explained. "Obviously we both want to love it. Brad sends me songs all the time. I don't write songs. I used to try and thought maybe I'd be a songwriter one day, but I guess it's just not my jam. And Brad's super, super great at writing songs, He writes a ton of songs and he sends them to me and, and we talk about them.
"Often I love them and often I don't," he continued. "Brad write so many songs, it's hard to record them all, but we have been able to narrow it down to some great stuff, and stuff that we're excited to share with the world."
High Valley planned on touring to support Grew Up On That, but they, like many other artists, are being forced to put their tour plans on pause, with no idea of when they will be able to hit the road again.
"I'm not being negative by saying this, but I think the chances stuff happening this year are like maybe 20 percent at best," Brad acknowledged. "And if they are, it'll be the end of the year, like October, November. Technically we still have shows in the summer that have not been canceled. But I think a lot of that is just legalities. People trying to figure out how to issue refunds and they don't cancel maybe until the last month or something.
"But there's a few people out there that are putting stuff up for September right now, and talking about it like it'll happen," he continued. "So I think your guess is as good as mine. I just don't understand who's in charge. I think everybody's scared that somebody's going to sue somebody. It's a weird, weird, weird business to be in right now for sure."
The music business might have been deeply affected by coronavirus, but that has little bearing on how High Valley feels about their circumstances, or their music.
"Our goal still is to bring families together and to have music that they can enjoy together," Brad noted. "That will have a message, like 'One Day You'll Get It' that hopefully inspires a dad to talk to his kids. Hopefully a song like 'Your Mama' inspires kids to respect their mamas and husbands to treat them better. And hopefully in 'River's Still Running,' it does give people hope when it's a little crappy out there right now.
"'Grew Up on That,' I think all of us right now are living kind of a little more like how we grew up, than what we were a few months ago," he continued. "Normally you forget some of the crappy memories and remember the good stuff. 'Grew Up on That' definitely focuses on the good memories. Hopefully this record like our other records brings families closer together."
Grew Up On That is available for purchase at Amazon
or High Valley's website.