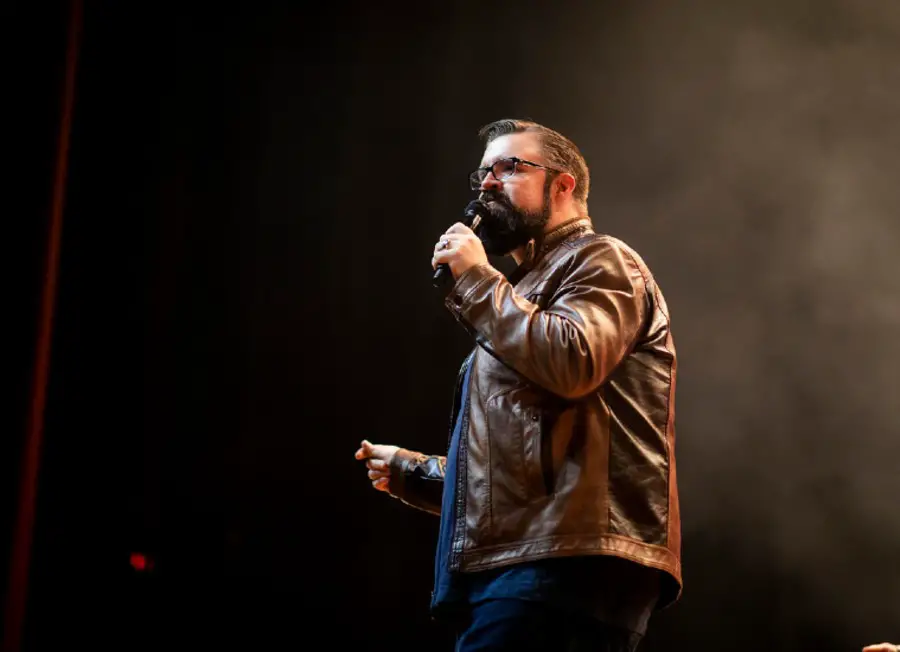 Home Free's Rob Lundquist has been part of the group since 2008, lending his signature voice to their classic, all-vocal sound. We know that he is from Minnesota, and that he is married and the proud father of two children. But there was still a lot more we waned to know about Home Free's bearded singer, so we asked him 11 of our biggest questions. Read his answers below.
1. Did you set any New Year's resolutions this year, and if so, what are they?
I'm terrible at resolutions … but I would like to spend less time on social media/my phone, read more and get in better shape. Since we haven't been going to the gym, we just got a treadmill to get us moving more during these cold months of staying inside – we just have to start using it!
2. Aside from performing, what have you missed the most about life during the pandemic?
Being with my band/crew on tour, for sure. Before this happened, I was honestly seeing them more than my family, and we always had a good time checking out the local eateries and being tourists in different cities together. I miss those days.
3. When you visit Nashville, where is one place you HAVE to visit?
One of the many amazing places to get food – Biscuit Love, Emmy Squared, Pelican & Pig…the list goes on and on.
4. Is there anything that has surprised you about your children, after being home with them for almost a year?
Just how much they're growing up in a year. It's been really special to spend so much time with them. When I got home from Europe, right when all this craziness began, my son Charlie was barely talking, and now he is saying paragraphs at a time and can understand every word. My daughter has really started developing her own sense of humor and is always trying to get us to laugh. One of the major upsides of being forced to stay home is sharing this time with my family.
5. When you need to unwind, what do you do?
I love watching all of the movies and series on the various streaming platforms – always looking for good recommendations too, so send them my way! There are so many quality things to watch, it's hard to keep up at times. I've also started reading novels before I go to sleep, instead of scrolling through Twitter.
6. If you had one last meal, what would it be?
Ooooh. that's really tough. Well, since I mentioned it earlier, the burger at Emmy Squared might just be the best burger I've ever had. That, and some of their Zia waffle fries… Could do a lot worse for a last meal! Give me all the carbs please!
7.  What's your favorite Home Free memory, at least so far?
There are way too many great moments to pick one favorite. Things just keep getting better and more and more surreal. We've been able to collaborate with legends, won a TV show [The Sing-Off], sold out amazing venues all over the world … things we would have never dreamed of 10 years ago.
Winning The Sing Off is up there, since it's a huge reason so many people became fans of our music in the first place… So, I guess if I HAD to pick one, I'd go with that.
 8. If you weren't a singer, what would you be?
I really enjoy podcasting. I have a movie podcast called The Avid Indoorsmen with one of my best friends, Buegs. We review different movies, play movie trivia games, have guests join us, and just have a fun time, overall. It's a blast.
9.  I know in a typical year, you're always on the road, traveling to new places, but when you actually get some real downtime, what is your go-to vacation spot?
My in-laws have a cabin on a lake in northern Minnesota that we frequent. We have traveled there many times during this year of COVID, just to escape our house for a little while and get a nice change of scenery. It's such a beautiful place to relax, so it's really helped keep us from going stir crazy during quarantine.
10. Which artists might we be surprised to find on your playlist?
Well, my playlist has been completely overrun by my children, so it's pretty much Princess and he Frog on repeat. My Spotify "Top Songs" list for 2020 featured the entire Princess and the Frog soundtrack, if that tells you anything. Perks of being a dad, I guess?
11. What is one thing the Home Fries might not know about you?
That's tough because our Home Fries know so much, but here's a little fact they might not know – when I was in elementary school, I had a hamster named after one of my favorite comedians – Sinbad.
Photo Credit: Evan Stefano