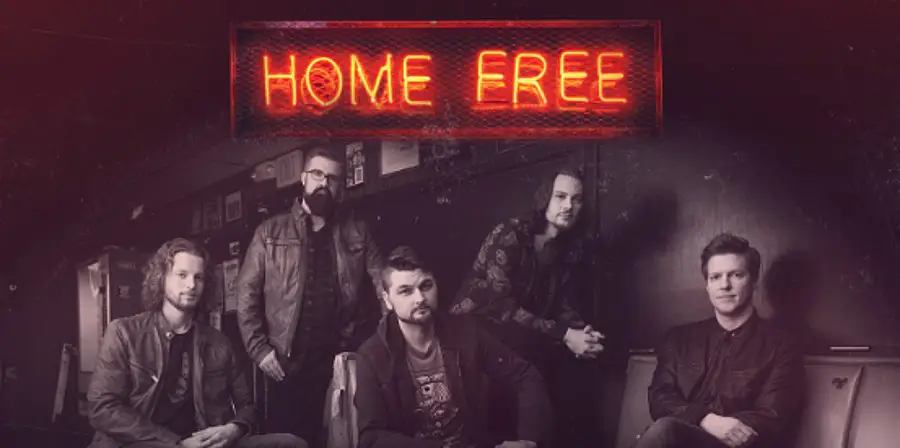 Home Free is currently on the Canadian leg of their Dive Bar Saints Tour, which had to be postponed due to the pandemic. Unfortunately, one of the group's members, Adam Chance, will have to miss a few shows, since he contracted COVID-19 while on the road.
Home Free shared the disappointing news in a video posted on social media.
"Hey y'all, just wanted to let you know that Adam Chance has tested positive for COVID," Tim Foust said. "He's in great health and spirits, but unfortunately, he's going to be locked up in quarantine for the foreseeable future. The good news is that the rest of us and all the crew have tested negative. We are not about to cancel another Canadian show. So, until he tests negative, we'll be performing as four."
"But, it's going to be really unique," continued Austin Brown. "Everybody's trading off on Chance's leads. It is going to be something that no one's ever seen before, so consider yourself lucky in that case. We're going to make the best of it. Chance will surely be missed. But I'd be lying if I didn't say we're gonna have a lot of fun. Get better soon, Chance."
Get well soon @TheAdamChance, we can't wait for you to rejoin us on the road 🙏 pic.twitter.com/ntXe9STT97

— Home Free (@HomeFreeGuys) April 26, 2022
Chance also spoke out about the disappointing news on social media.
"As you may have already heard, I've tested positive for COVID, so I'll be holed up in Winnipeg for a few days here," he tweeted. "My symptoms are mild, and I'm grateful to be the only member in our camp to have caught it. Thanks for the well wishes! I'll see y'all back out on the road very soon!
"You can lift my spirits even more though by going to watch both collabs with my babes The Hound + The Fox on YouTube that we released today," he added.. "Wayfaring Stranger" & "The Sound of Silence."
Both "Wayfaring Stranger" and "The Sound of Silence" can be found here.
Home Free was overseas on their global Dive Bar Saints Tour in 2020, when they found out they had to quickly cancel their tour and return home, as cases of COVID-19 began to rise all over the world.
"It was like whiplash,"  Foust recalled to Everything Nash. "We were literally in the middle of a European tour and we had to cut it short. We had stayed up till 2:00 AM, Europe time, to see the Presidential address. He said we were going to be banning flights from Europe. So the first thing we did was get on the phone and say, 'Delta, get us home ASAP.' It was very jarring in a 24-hour period to go from being in the middle of a tour on the other side of the world, to being on our couches in our homes, not really knowing if we could or should even leave our houses. It was one of the more jarring experiences I've ever had."
Home Free will release their The Sounds of Lockdown album on May 13. Find music and tour dates at HomeFreeMusic.com.