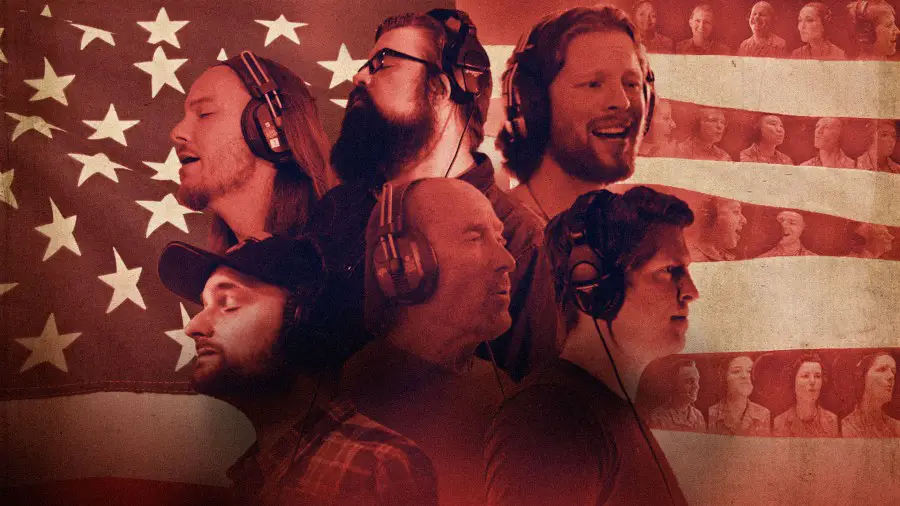 Home Free and Lee Greenwood's patriotic "God Bless the U.S.A.," which also included The United States Air Force Band, set a new record when it was released last year. The song, which Greenwood initially released in 1984, went from No. 50 to No. 1 on the charts immediately after it was released in 2020, quickly garnering well over a million views on YouTube. Now, the singers have been honored with a prestigious Telly Award for Most Viral Video, awarded for "excellence in video and television across all screens."
"Thank you so much for watching our collaboration with "God Bless the U.S.A." over 200 million times, and a huge thanks to the Telly's for this award for Most Viral Video," Tim Foust says.
"And thanks to these guys for putting this together," Greenwood added. "I have so many people appreciate what I did with the song, 'God Bless the U.S.A.' It was actually their favorite version. It was actually their favorite version that we did in 2020, and thanks to the fans for that."
Uh… WOW. Thank you so much to the @tellyawards for naming our video of "God Bless the USA" with @TheLeeGreenwood and @USAFBand as the 'Most Viral Video'. Who knew that a couple hundred million views would get us some really, really cool hardware? pic.twitter.com/cQqNnwmL07

— Home Free (@HomeFreeGuys) July 14, 2021
Home Free and Greenwood were already fans of each other before "God Bless the U.S.A.," but have become even closer since their collaboration. The song, which Home Free had been doing for years before joining with Greenwood on the track in 2020, became the catalyst for Home Free's latest album, Land of the Free,
"That track in particular, we knew we had to put it on this record for that fact alone of Lee Greenwood just really showing that, age can only make you better if you're really a studied and intentional artist," Austin Brown tells Everything Nash. "His presence on that song is unlike anything that I could have imagined. I figured somebody who had sung a song like that for years and years and years, it would just be another day in the studio, but he really owned that moment and rose to the occasion. It means the world to him, and I really look up to him. He's a role model for how he approaches that song still. Every day it's like that song is a new song for him."
Greenwood, who wrote that song in response to the shooting down of Korean Air Lines Flight 007, was already a big, big fan of Home Free before their "God Bless the U.S.A." collaboration.
"The Home Free group is just a very special a capella band, and I've known them for years," Greenwood says. "They said, 'We're going to include the Air Force singers, who we know quite well.' And I do too. It was just really a good version 'God Bless the U.S.A'. And I got to be a little freer than most of the performances I have when I'm on the only soloist, because everybody had their part to sing. And there's no interference by percussion and drums, which I really am a believer in that. I like a capella performances. So it just came out really well."
Want even more exclusive artist interviews? Subscribe to our YouTube channel here.