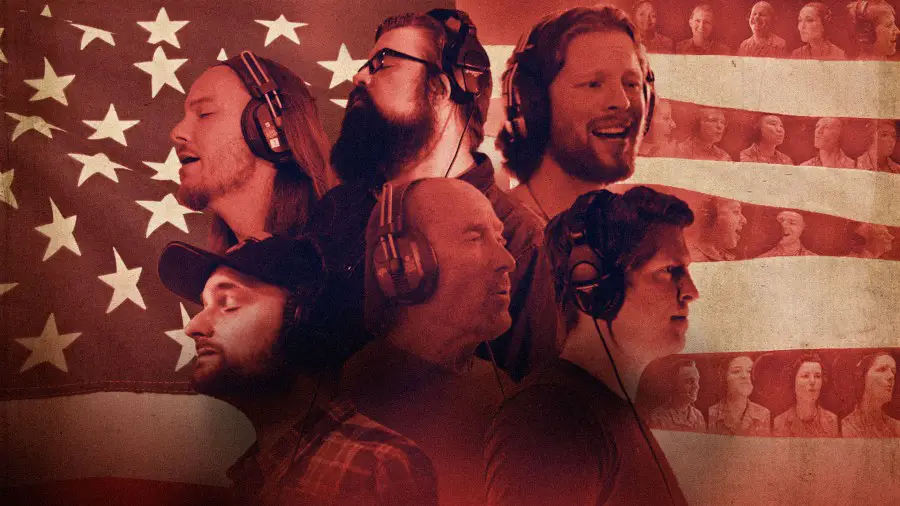 Home Free and Lee Greenwood set a new record after they released their "God Bless the U.S.A." collaboration last year, which also included the United States Air Force Band's chorus, the Singing Sergeants. The song, which  became the catalyst for Home Free's just-released Land of the Free patriotic album, is one that Home Free had already been performing for years, but took on an entirely new meaning after performing it with the song's creator, who also happens to be one of their musical heroes as well.
"Shooting 'God Bless the U.S.A.' at Mount Rushmore [in 2016], and then also getting a chance to shoot that again with Lee Greenwood," Austin Brown tells Everything Nash of the song's importance in their career. "He owned that song in a way that, I don't know if we'll ever do a collaboration again where the original artist outdoes himself in such magnanimous fashion like that."
Home Free not only wanted the message of "God Bless the U.S.A." on Land of the Free, but they also wanted Greenwood on the project as well.
"That track in particular, we knew we had to put it on this record for that fact alone of Lee Greenwood just really showing that, age can only make you better if you're really a studied and intentional artist," Brown boasts of the 78-year-old. "His presence on that song is unlike anything that I could have imagined. I figured somebody who had sung a song like that for years and years and years, it would just be another day in the studio, but he really owned that moment and rose to the occasion. It means the world to him, and I really look up to him. He's a role model for how he approaches that song still. Every day it's like that song is a new song for him."
Home Free might be a big fan of Greenwood, but the love definitely goes both ways.
"The Home Free group is just a very special a capella band, and I've known them for years," Greenwood boasts to Everything Nash. "They said, 'We're going to include the Air Force singers, who we know quite well.' And I do too. It was just really a good version of 'God Bless the U.S.A'. And I got to be a little freer than most of the performances I have when I'm on the only soloist, because everybody had their part to sing. And there's no interference by percussion and drums, which I really am a believer in that. I like a capella performances. So it just came out really well."
It was after recording "God Bless the U.S.A." that Home Free realized they wanted to make an album celebrating all that they loved about America.
"That probably was a catalyst for this whole project," Tim Foust tells Everything Nash. "Seeing the way that the fans, and even folks who didn't know who we were, reacted to 'God Bless the U.S.A.' We've had two versions of that go mega-viral. We released one a few years back that went great. And then the second time around, we got to work with the Lee Greenwood, as well as the Singing Sergeants from the Air Force. So it was a really special thing."
Land of the Free is available for  purchase at HomeFreeMusic.com.