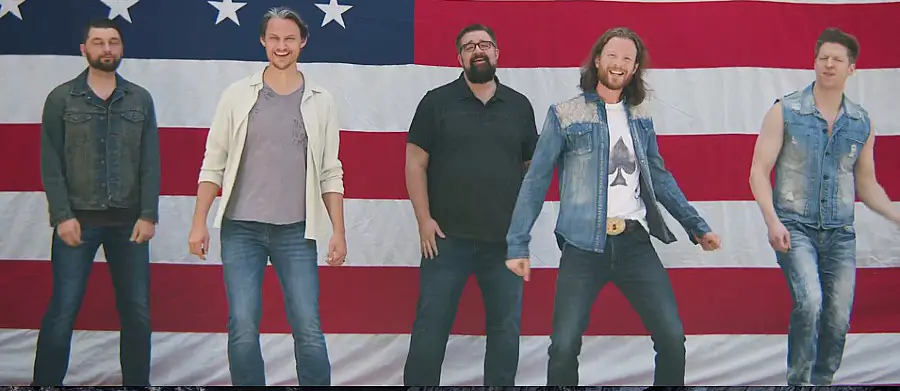 Home Free's Land Of The Free album is out! The 10-track record, which includes songs like "Undivided," "Born in the U.S.A," "Travelin' Soldier" and more, was inspired by the all-vocal group's love of their country, and their deep desire to spread positivity in the world, now more than ever. While Home Free had for years considered doing a patriotic record, it wasn't until they recorded "God Bless the "U.S.A.," with Lee Greenwood and the United States Air Force Band that they realized the time had never been better for Land Of The Free.
"That probably was a catalyst for this whole project," Tim Foust tells Everything Nash. "Seeing the way that the fans, and even folks who didn't know who we were, reacted to 'God Bless the U.S.A.' We've had two versions of that go mega-viral. We released one a few years back that went great. And then the second time around, we got to work with the Lee Greenwood, as well as the Singing Sergeants from the Air Force. So it was a really special thing."
The title track, and the only original song on the project, was written by Foust, more than 10 years before Home Free recorded it.
"I had recorded a solo version with instruments way back in the day, but it got a limited release," Foust recalls. "I was just sort of sitting on it for a decade. Luckily for me, Austin [Brown] is the one that said, 'You guys, we should do this song of Tim's.' And so we handed it over to our producer, Darren Rust, to craft an all-vocal version of it. I'm thrilled with the way it turned out."
Home Free is known for their videos, with their YouTube channel recently earning a Gold Play Button for having more than a million subscribers. But of all of the videos they have done, one of their favorites, at least currently, is "Land of the Free."
"The music video is maybe one of the [most fun] videos we've ever shot," Foust gushes.
"'Land of the Free' right now," Brown adds, when asked if he had a favorite video. "Those are all of our favorite videos, the ones that we just get to go outside and hang out and do country stuff together, and that's not an unusual choice."
Brown knew that if Home Free was going to do an album celebrating their love of America, "Land of the Free" needed to be included on the project, along with another one of his favorite patriotic tunes, this time with Home Free's unique twist on it.
"It's a song that, ever since I first heard it, I've been wanting to do that song with Home Free," Brown says of "Land of the Free." "I heard it for the first time ten years ago when I met Tim and Home Free, and I was like, 'This is incredible.' But I think after that song, my favorite would definitely be 'My Country, 'Tis of Thee,' because it feels like such a contemporary arrangement that I think everyone will love. No matter the age range, there's something about that song, that arrangement Ben Bram arranged it, and it's transcendent really. I think it's a really special song and I cannot wait for the reception of that."
All five guys helped pick the ten songs on Land of the Free, but with so many songs they all love,
"Everything we do in Home Free is a real democratic process," Foust shares. "We just started throwing out ideas, and voted on them, basically. And I wouldn't be surprised if there was Land of the Free Part Two at some point, because we didn't get around to all the songs that we wanted to hit."
Home Free will celebrate the release of Land Of The Free with an album release show at the Grand Ole Opry. Find information at Opry.com, and purchase the record at HomeFreeMusic.com.