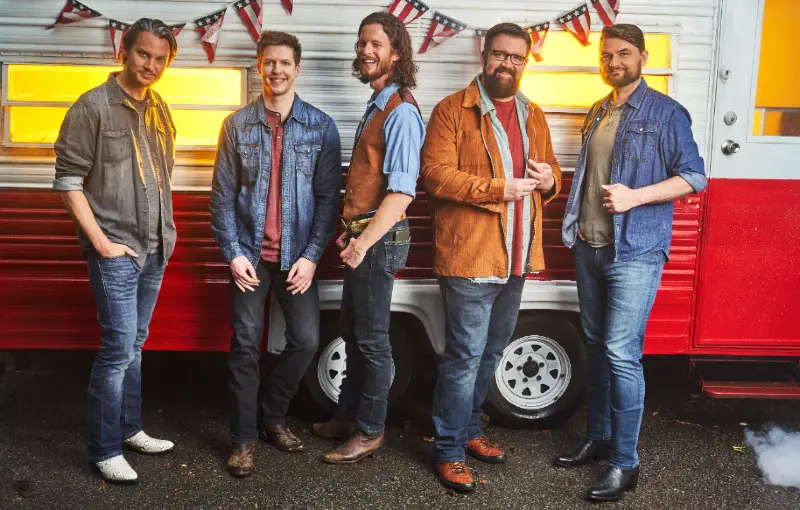 Home Free finally got to perform their first live show on the road in well over a year over the weekend, even if they did have a bit of trouble on the way. The all-vocal group detailed their unexpected delay on social media, adding that it was all worth it for their return to live shows again.
"What. A. Weekend." Home Free writes. "Our first full show in nearly 500 days. We barely made it to Rhinelander, WI after our bus broke down in the middle of the night. After the bus change, we ended up picking up the incredible Pam Tillis, who had the same situation with her bus a few hours ahead of us. But we arrived to an incredible crowd and group of people Hodag Country Festival. We saw SO MANY Home Free fans at the festival, were met with smiling faces, singing and dancing, and some awesome music with Trace Adkins and Darius Rucker. We've missed this so much and are so thankful we are able to go out on the road again."
What. A. Weekend. Our first full show in nearly 500 days. We barely made it to Rhinelander, WI after our bus broke down…

Posted by Home Free on Monday, July 12, 2021
Home Free previously said that being forced to unexpectedly cancel their Dive Bar Saints Tour in 2020, while overseas, was heartbreaking for them.
"It was like whiplash," Tim Foust tells Everything Nash. "We were literally in the middle of a European tour and we had to cut it short. We had stayed up till 2:00 AM, Europe time, to see the Presidential address. He said we were going to be banning flights from Europe. So the first thing we did was get on the phone and say, 'Delta, get us home ASAP.' It was very jarring in a 24-hour period to go from being in the middle of a tour on the other side of the world, to being on our couches in our homes, not really knowing if we could or should even leave our houses. It was one of the more jarring experiences I've ever had."
Home Free never had as much time at home as they did last year, which turned out to be a bit of a blessing in disguise.
"It went from this incredibly stressful experience to flash forward to right now," Austin Brown reflects. "It was almost like a really beautiful reset. We get to go back on the road now, and we have a sense of value that we never had before. I hate to say we took it for granted, 'cause I don't think we did, but it certainly is something that none of us ever thought could be taken away so immediately, and so indefinitely."
Home Free will resume life on the road with shows in Nebraska and South Dakota this weekend. Find dates by visiting HomeFreeMusic.com.
Want more exclusive artist videos? Subscribe to our YouTube channel here.