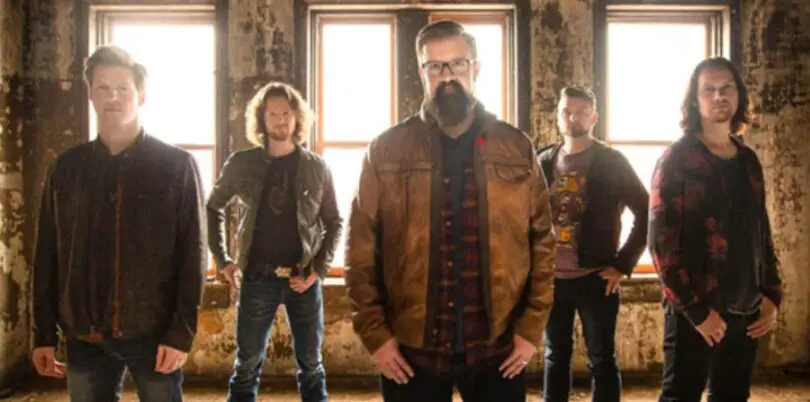 Home Free has another award to add to their collection. The five-man group earned a Gold Play Button by YouTube, in honor of exceeding one million subscribers on their official YouTube channel. Home Free shared the news in a behind-the-scenes video of the recording of their latest collaboration, "American Pie," with the song's writer and performer, Don McLean.
"When you hit a million subscribers, they send you this," Home Free's Austin Brown said in the video, while standing outside with Tim Foust and producer Darren Rust. "It's a Play Button. I think it's a Gold Play Button, if I'm not mistaken. You get a Silver one for 100,000, and then there's one for a million and there's one for ten million. We didn't want to open it until at least two of us were together … This has been in my house for over a month."
Home Free has collaborated with plenty of artists over the years, including Charlie Daniels, Kenny Rogers, Lee Greenwood and more, but for Brown, recording "American Pie" was a dream come true, for both him and his mom.
"It's just one of the songs that we grew up with," Brown shared. "This is one of those songs that I heard a million times as a kid. I swear I knew every word to it. My mom, one of her favorite artists is Don McLean. I feel like I haven't even told her we're doing this yet, so I need to call her right now, and actually talk to her, and let her know where I am."
"American Pie" might be 50 years old, but McLean still doesn't get tired of singing the song, or even talking about the story behind the iconic tune.
"People love the song, and they never meet me," McLean said in the video. "It's the first time they ever met me, and they've had these burning questions, and so they ask them to me, ask me these questions, and I treat them with respect. I realize that they don't mean any harm. I'm here to entertain people, to make them feel good. They're not there to make me feel good. People deserve respect. They're not trying to torture me. They think I've never been asked that before."
Home Free recently posted a behind-the-scenes video of the recording of "How Great Thou Art" in Austria. Watch the video, and subscribe to their YouTube channel, here.