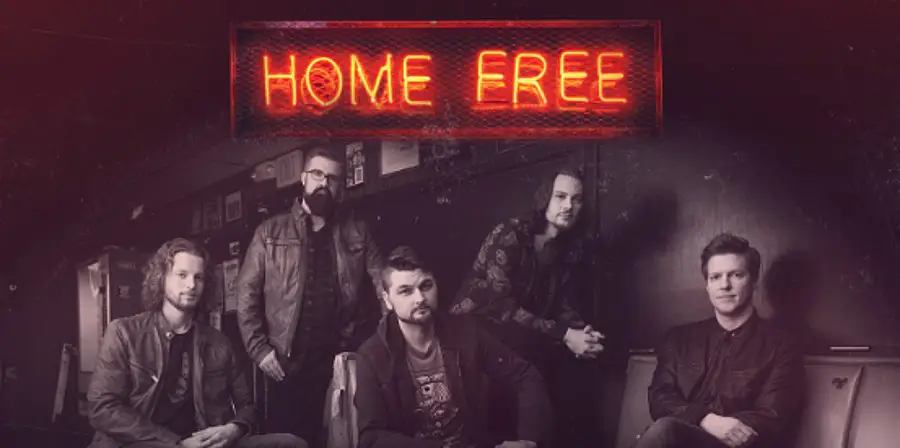 Home Free just released their powerful video for "Travelin' Soldier," one of ten patriotic songs from their upcoming Land of the Free album. The song, a cover of the Bruce Robison song, made popular by The Chicks, takes on new meaning with the all-vocal group's version, who changed the lyrics slightly to reflect a woman going off to war instead of a man.
"When Austin [Brown] first suggested we cover this song, it had been years since I heard it — and to be perfectly honest, I had forgotten just how beautiful and tragic it truly is. After listening to it again, I was totally on board,"  Home Free's Rob Lundquist says. "I know this one hits home for a lot of people — myself included. My dad was in the Army when I was born, and when my parents heard our version of this song for the first time, they both had tears in their eyes. Needless to say, there's something really special about this song, and I'm so glad we decided to sing it."
Home Free will release Land of the Free on June 25. The record also includes "God Bless the U.S.A." with Lee Greenwood and the United States Air Force Band, "People" with Jeffrey East, a cover of Brooks & Dunn's "Only in America" and more.
"Based merely on the human condition, our differences are far outweighed by our common ground," Tim Foust says of their new set of tunes. "We hope this album serves as a reminder of the unity to be found in our shared humanity."
See a track list for Land of the Free below. Pre-order the record, and find all of their upcoming tour dates at HomeFreeMusic.com.
Home Free's Land of the Free Track Listing:
1. "Undivided" (Tyler Hubbard, Chris Loocke)
2. "Only in America" (Kix Brooks, Don Cook, Randall Jay Rogers)
3. "God Bless the U.S.A." feat. Lee Greenwood + The United States Air Force Band (Lee Greenwood)
4. "Brothers in Arms" (Mark Knopfler)
5. "America (My Country, 'Tis of Thee)"
6. "Travelin' Soldier" (Bruce Robison)
7. "The Land of the Free" (Chris Chatham, Tim Foust)
8. "American Pie" feat. Don McLean (Don McLean)
9. "People" feat. Jeffrey East (Jeffrey East, James Ryan Plappert, Michael White)
10. "Born in the U.S.A." (Bruce Springsteen)