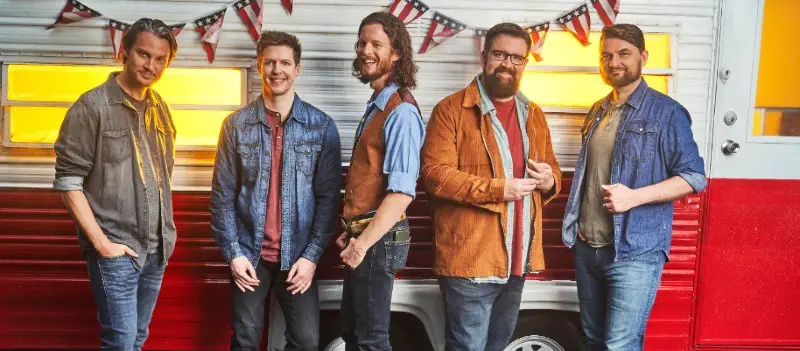 Home Free is offering a touring update after someone within their camp has tested positive for COVID-19. The all-vocal group announced the news on social media, revealing that they would make a decision about their upcoming shows on their Dive Bar Saints Tour later this week.
"A member of our touring party tested positive for COVID-19 tonight. They have a few symptoms, but nothing too serious or cause for immediate concern," Home Free shared. "While we have taken great precaution to stay safe during this tour, (all of us being vaccinated, new VIP event protocols, suspended post-show signings, and more), we understand that seeing as many people as we do in such a short period as we do while touring comes with some inherent risks. We think it's only responsible to let everyone know about this so you can take your own safety and the safety of others seriously.
"To our fans in Cheyenne, Ogden, Grand Junction, and Denver, please be careful and take care of yourselves, and look out for the safety of those around you," they continued. "To our fans in Cincinnati, Grand Rapids and Dubuqe, we're monitoring the situation, and weighing all of our options regarding the upcoming shows this coming weekend. We will be sharing more updates by Wednesday afternoon."
We will be sharing more updates by Wednesday afternoon. pic.twitter.com/KnJXgvxADX

— Home Free (@HomeFreeGuys) November 8, 2021
Home Free resumed their Dive Bar Saints Tour in October, after announcing in February that they were postponing some of the dates, originally scheduled for last year, until later this year. The group was overseas in early 2020 when they unexpectedly had to come off of the road, due to rising cases of COVID-19.
"It was like whiplash," Tim Foust told Everything Nash. "We were literally in the middle of a European tour and we had to cut it short. We had stayed up till 2:00 AM, Europe time, to see the Presidential address. He said we were going to be banning flights from Europe. So the first thing we did was get on the phone and say, 'Delta, get us home ASAP.' It was very jarring in a 24-hour period to go from being in the middle of a tour on the other side of the world, to being on our couches in our homes, not really knowing if we could or should even leave our houses. It was one of the more jarring experiences I've ever had."
As of now, Home Free's next scheduled show is on November 12, in Dubuque, Iowa. Updates will be posted here as available.
Want to watch more exclusive artist interviews? Click HERE to subscribe to our YouTube channel.