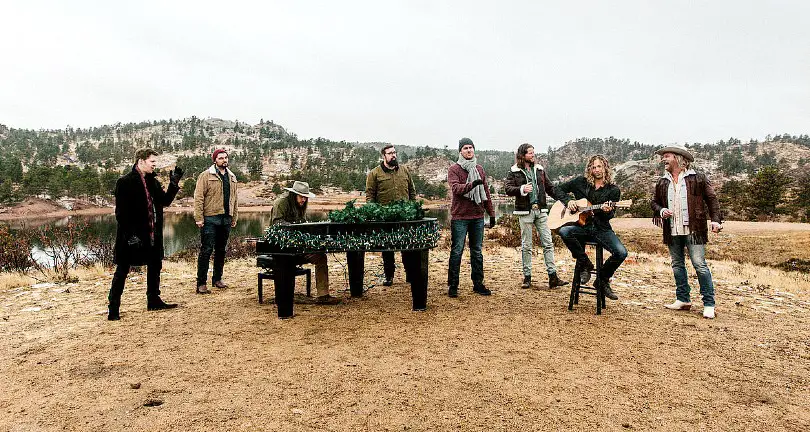 Home Free and Texas Hill''s "Go Tell It On the Mountain" video is out! The scenic video was a collaborative effort, shot together in Cheyenne, Wyoming.
The picturesque video, which premiered on Home Free's Facebook page, features all five members of Home Free with the three Texas Hill members, including Adam Wakefield on piano and Casey James on guitar.
The collaboration began after Home Free's Austin Brown went to see Texas Hill perform at Nashville Palace, and was blown away by what he saw. From there, a friendship was born between the two groups, which ultimately led to "Go Tell It On the Mountain."
"The guys, they had their foundation already laid. Texas Hill had done their stuff," Brown tells Everything Nash. "They were like, 'What do you guys think about coming in and singing this with us?' We were like, 'Oh my God, this is a great idea.' So we immediately got together, myself and Tim [Foust] with our main vocal producer. His name is Darren Rust. He does most of our arranging with us. He produces everything for us. We arrange with him on all the songs we do, and so this was no exception."
Home Free and Rust combined their ideas, which resulted in the festive collaboration.
"He sent the track to me," Brown recalls. "We all recorded separately, because we learned how to do that during the pandemic. So we're still doing that. He sent the track to me. I put down my part, and then I sang probably two minutes worth of ad-libs at least. And then he picked out the things that he thought were the best, and really carved it into something that I think it's one of my favorite things we've done. I can't wait to do it live on tour."
Texas Hill joined Home Free for one of their shows, while they were in Wyoming to film the video. The experience was overwhelmingly positive, for both Home Free and Texas Hill.
"The whole evening, the whole day really, was just really great," Texas Hill's Casey James says. "I think I said thank you to everybody about ten times. And I really meant it, because things aren't always that easy when you have two different camps put in the same area. A lot of times people are too cool for school, and there's egos and attitudes. And there was really none of that. it was one of the most enjoyable times. I've had in a very long time in terms of playing shows with folks."
"I really did appreciate the vibe," Brown adds. "It was so cool getting together. It felt like nobody had an ego. We were all just happy to hang out and talk about life and make good music. It was just so chill, and I just can't get enough of that. Especially in this town where everybody here has just got their work glasses on all the time. You know, they got their 'I'm going to work' hat. It felt like we were hanging out and making music in a way that just doesn't happen very often … It makes me want to do so much more stuff, 'cause it was just a fun hang."
Brown will get his wish of performing "Go Tell It On the Mountain" live, when Texas Hill joins Home Free on a few of their Warmest Winter Tour dates, including an upcoming show at the Ryman Auditorium. The Ryman show, which will also include Brooke Eden and Ernie Halter, will also be streamed via Mandolin. Find more information here.
All of Home Free's upcoming shows can be found at HomeFreeMusic.com.
Want to watch more exclusive artist interviews? Click HERE to subscribe to our YouTube channel.
Photo Credit: Courtesy of Elicity PR / Josh Adams