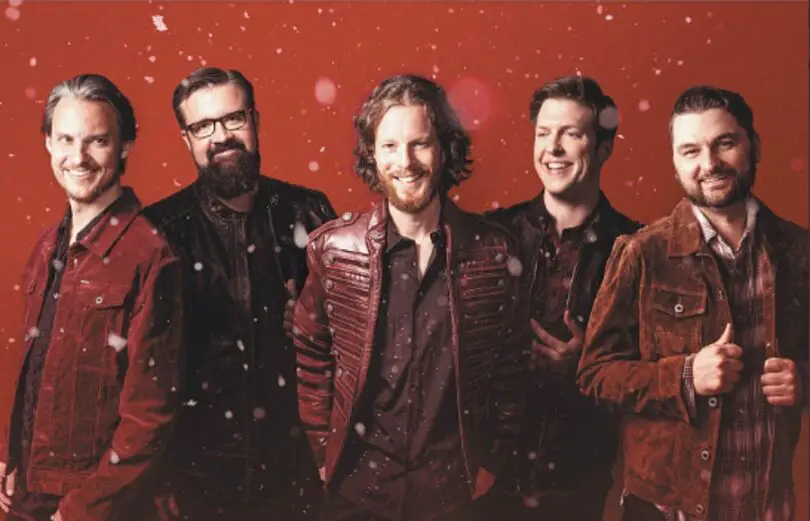 When Home Free decided to record their latest Warmest Winter album, they wanted to do more than just sing a bunch of Christmas songs. Instead, the five-man group hoped to release a set of tunes, both covers and originals, which not only celebrated the Christmas season, but also sent a powerful message, one that is needed now more than ever.
"At a time in our country when there's a lot of polarization, we just wanted to have a message of unity," Tim Foust told American Songwriter. "If you take any two humans from any two places on the planet, they'll always have more in common than they may have different from one another, but there are increasing forces that try to get us to focus on our differences. We're just trying to get people to think more about the ways we're alike, then respond appropriately to that."
Home Free has already released several holiday records, including the 2016 Full of (Even More) Cheer, which was their last holiday record until Warmest Winter. Still, it's their latest project that Home Free perhaps worked the hardest on, feeling driven now more than ever to inspire others with all of the songs on Warmest Winter.
"We wanted to make an album that wasn't just a recycled version of every other Christmas record you've already heard," Austin Brown shared. "We chose the songs in an effort to put an album out there that is truly unique and yet still gives you that feeling of excitement and nostalgia we all hope to discover again and again with each new holiday season."
While the holidays will certainly look different this year, the biggest wish for the members of Home Free is that Warmest Winter reminds others that Christmas can still be celebrated, maybe now more than ever.
"This Christmas, we have an opportunity to come together as a global family," Austin stated. "With so much turmoil all around the world, it's good to unplug from it all, and reconnect with that childlike wonder that always seems to resonate so clearly at Christmastime."
Warmest Winter includes Alabama, Rachel Wammack and Striking Matches. Home Free will also stream a Warmest Winter holiday special, which includes all of the guests on the Christmas record, as well as the Oak Ridge Boys and Jeffrey East. Find details at HomeFreeMusic.com.