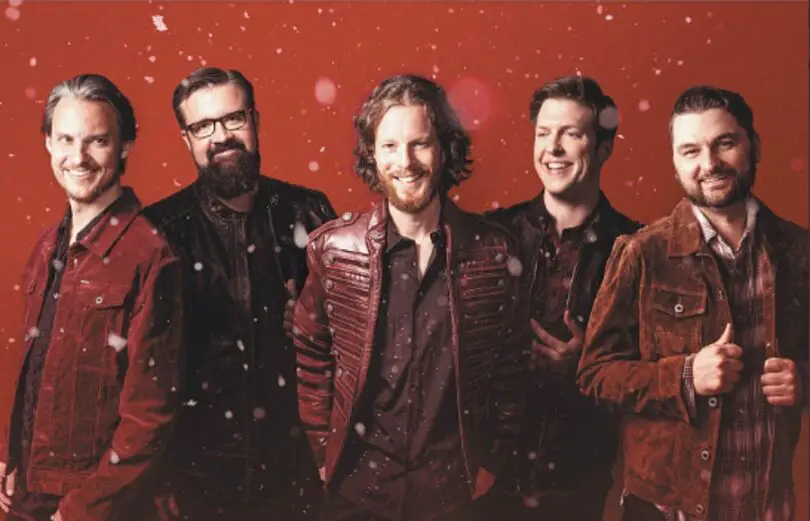 It's here, Home Free fans! The five-man group's long-awaited Warmest Winter Christmas album was released on Friday, November 6, filled with holiday tunes, guest artists, and as always, their signature rich harmonies.
Alabama, Rachel Wammack and Striking Matches join Home Free on the 12-track record, with each of the artists hand-picked by Home Free for the festive project.
"We've known Alabama for years, and we all grew up listening to their music," Home Free member Rob Lundquist told Everything Nash. "We have opened for them in the past, and Jeff Cook has actually come out to one of our shows. We've been looking for an excuse to get them on a record, and 'Christmas In Dixie' seemed like the perfect collaboration. We were so excited they were down to record this with us."
Rachel, who filmed a video of "Tennessee Christmas" with the group last year, impressed Home Free with her undeniable vocal talent the first time they heard her.
"We had met Rachel Wammack when we were both opening for Reba McEntire last summer," Rob recounted. "We were blown away by her talent and had been wanting to collaborate with someone on 'Tennessee Christmas' for a while, so we just asked her on the spot if she'd be interested, and thankfully, she was."
Striking Matches may not be as well known as some other artists they could have gotten, but that didn't matter to Home Free, who is a longtime fan of the duo.
"I was familiar with Striking Matches because I saw them rock the house when they opened for Johnnyswim and found out afterward that we both use the same management company," Rob said "After we had recorded 'Run, Run, Rudolph,' we knew we needed to spice it up somehow, and we asked them if they'd be willing to make our song way cooler. They did just that."
In addition to classic holiday songs like "Winter Song," "Christmas Don't Be Late" and more, there are also five originals on Warmest Winter, co-written by either Tim Foust or Austin Brown. Tim helped write "Snow Globe," "Christmas Ain't For the Lonely" and "What We Need is Love," while Austin co-penned "Cold Hard Cash" and the record's title track.
"It was extremely hard to narrow down songs because we have already recorded so many, and there are still so many to choose from," Rob admitted to Everything Nash. "We all brainstormed for weeks to see what covers we wanted to do, all the while Tim Foust and Austin Brown were doing writing sessions around Nashville, trying to come up with things for the record. I think every song that they presented we loved."
Home Free also just finished taping their Warmest Winter holiday special, which included the guests on Warmest Winter, along with the Oak Ridge Boys and Jeffrey East. Details on a release date have yet to be announced. Purchase Warmest Winter at Home Free's website.