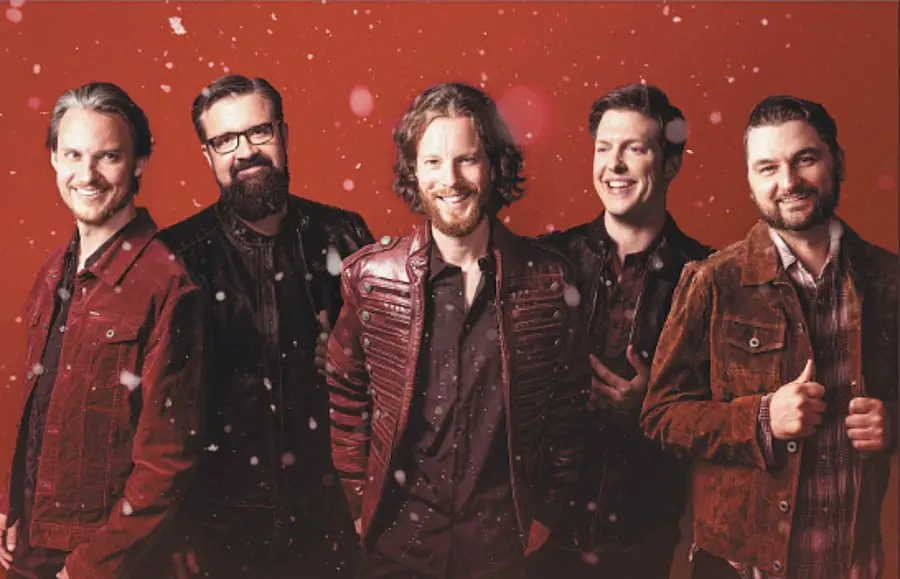 We now know when Home Free's highly-anticipated Warmest Winter Christmas special will be available! The star-studded event will stream online, beginning on Wednesday, December 2, at 9:00 PM ET. The special will air a total of six times, with the final livestream taking place on Saturday, December 5, at 9:00 PM ET.
After raising the initial goal of $75,000, in only nine hours, the five-man group ultimately raised more than $232,000, allowing them to add not only Rachel Wammack and Striking Matches to the special, but Jeffrey East, the Oak Ridge Boys and Alabama as well.
"We've spent a lot of time together as a group, touring the world and cookin' up some memories with you all," Home Free said on their Indiegogo fundraising page, after realizing how much money their fans helped them raise. "But today is a big one. We brought you all an idea less than a month ago to create a Holiday Special… and now here we are! You helped us raise over $200k to produce our very first special concert event. Home Free's Warmest Winter Holiday Special, coming your way soon. Thank You."
Home Free spoke out on social media, after they wrapped up taping the show, which took place at the Steel Mill in Nashville.
Our minds are blown and our hearts are full. ️THANKYOU to every one of our IndieGogo supporters for making Warmest Winter Holiday Special possible. Now that we're done shooting, are y'all ready for the details on where you can actually watch this thing? Get ready for tomorrow… pic.twitter.com/6Yv1F1zsmP

— Home Free | 'Warmest Winter' Is Out Now! (@HomeFreeGuys) November 10, 2020
"We just finished filming everything, for our Warmest Winter holiday special," Home Free member Tim Foust said in a video the group posted. "The first-ever Home Free special, and you made it possible, so thank you to our Indiegogo supporters. You all are incredible. You made it happen in the craziest of years, and we are so grateful and we just cannot wait for you to see how it turned out."
Home Free just released their Warmest Winter holiday album. The record is available for purchase via their website. Following their livestream shows, Home Free will also perform a live, socially-distanced show, at Nashville's Ryman Auditorium, on December 21.
General Admission for the Warmest Winter Christmas special livestream tickets begin at just $20. A Home Free Virtual Q & A Experience, as well as an Ultimate VIP Experience are also both available, for additional charges. Find more information at HomeFreeVIP.com.