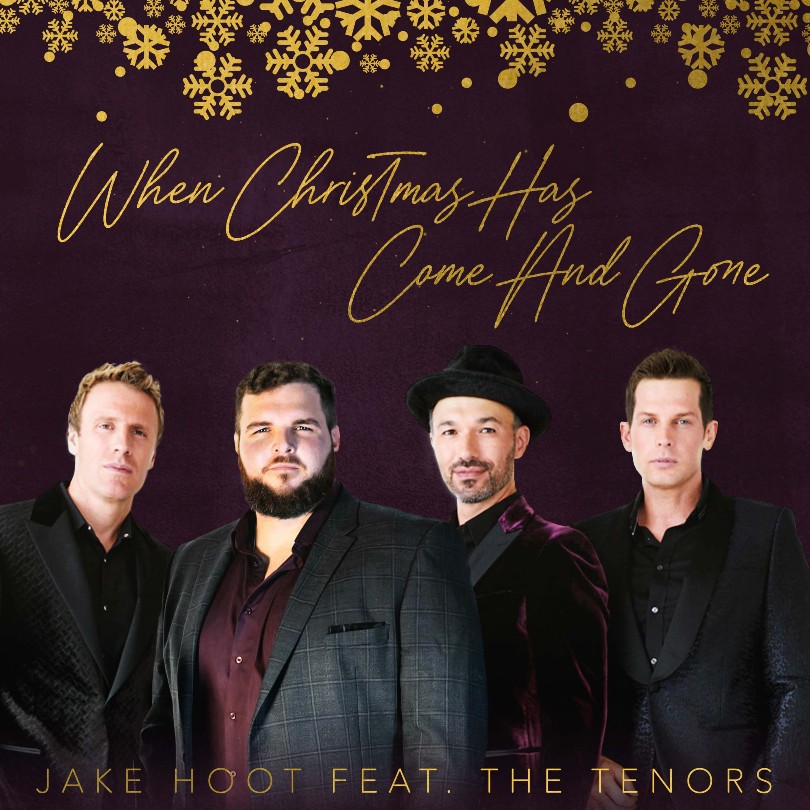 Jake Hoot and The Tenors will release the holiday single, "When Christmas Has Come and Gone," on November 19. The song, which was co-written by Hoot, is the culmination of a couple of years and friendship — and mutual admiration — before the talented trio, made up of Victor Micallef, Fraser Walters and Clifton Murray, combined their voices for the new holiday tune.
Hoot became friends with The Tenors, after they praised him on social media, following his performance of their rendition of "Wintersong" with Kelly Clarkson, during The Voice finale in 2019.
"Ive been a huge Tenors fan for a long time," Hoot tells Everything Nash. "Kelly and I were supposed to sing 'Whiskey Lullaby' together, and then they told her last second, 'Hey, it has to be a Christmas song.' And so I said, 'Let's do 'Wintersong,' but let's do The Tenors version of the song.' Kelly heard it and the band heard it, and everybody fell in love with it. And then shortly thereafter, The Tenors reached out, and they've just been incredible supporters, incredible friends since that whole thing. So that's kind of where it started."
The Tenors, known for their operatic twist on popular pop songs, were rightfully blown away by Hoot's talent when they heard him sing.
"It was a stunning, stunning version," Micallef says. "We were flattered that they decided to use our arrangement of it. We were kind of blown away. It was a big surprise. It wasn't like they called us up beforehand saying, 'We're going to use the arrangement.' So it was nice to see. We were so happy that that happened, not just because of them using the song, but Jake making his acquaintance to us. He is a phenomenal singer. Whatever training he's had, it's such a great voice. We love hearing him. We love to see where he's going. But beyond that, his personality, he's just a wonderful, wonderful human being. Salt of the earth. And we're so happy that this friendship began."
Ironically, it was after Hoot's performance of "Wintersong" almost two years ago that he had the idea for "When Christmas Has Come and Gone."
"Every show I play and I have played since The Voice, everybody always asks about 'Wintersong,' or 'Please, can you record that song? Can you do something similar? Can you sing it at the show?' There is hunger for those kinds of songs around Christmastime that kind of pull you in, and that have a lot of depth. And so I called a buddy of mine who lives in Nashville. His name is Marty Goetz, an incredible piano player, and an incredible writer. And I said, 'Hey, let's write a Christmas song together.' And so we wrote the majority of it in one afternoon."
Even while Hoot was writing "When Christmas Has Come and Gone," he had the idea to include The Tenors on the festive track, but had no idea if they would actually agree to join him on the song, or if logistically they would be able to make it happen in time for the holidays. Fortunately, as soon as The Tenors heard it, they rightfully fell in love with the song, and agreed to sing with Hoot.
"I said, 'If The Tenors would come onboard for this song, they would absolutely make this song magical,'" Hoot recalls. "I sent it to the guys and they rewrote some lyrics, and some melody stuff. And of course their arrangements, and the changes they made, as soon as I saw them, I was like, 'Oh yeah, that's absolutely the perfect fit.'"
Hoot and The Tenors have remained friends since their inaugural meeting, including competing in a frendly Cake Off baking challenge, but all three of The Tenors, like Hoot, hoped to one day collaborate together.
"Building the relationship over social media is kind of fun, but the ultimate goal was to have a collaboration," Walters says. "So it's just throwing ideas back and forth about what might work, what time of year. Jake approached us with this beautiful idea for a song and asked if we wanted to  write in on it. That's really an honor, something that he had originally started working , with another writer on, and we didn't take that lightly. We really wanted to bring our A game, and we did our best."
"When Christmas Has Come and Gone" might not be the last time Hoot and The Tenors sing together, especially considering how well this collaboration went, for everyone.
"Working with these guys has just been an absolute honor," Hoot shares. "For me to work with guys that I've idolized in the music industry for years … I'm not classically trained, but I've always loved opera music and I love what they do. And so to have them write a song with me and then also sing on it, it's a dream come true."