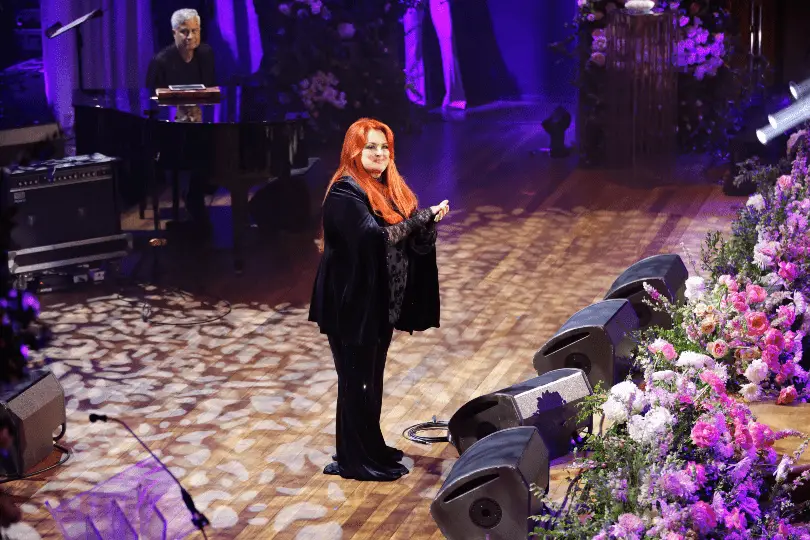 Naomi Judd was honored with an all-star tribute on Sunday, May 15. Naomi Judd: A River of Time Celebration, held at Nashville's Ryman Auditorium, featured performances and tributes by various artists, including her own daughter, Wynonna Judd, who spoke of her mother's passing, which happened one day before the duo's induction into the Country Music Hall of Fame.
"I've lived my life publicly since I was 17, so it feels natural to be with my family of choice," Wynonna said from stage. "Tonight is a celebration, and at the same time, I can't put into words how devastated I am …I said goodbye to her two weeks ago, kissed her on the forehead. Her eyebrows were still perfect. She was unlike anyone in our family. And I miss her so much. But I will continue to sing. I said I would and I will."
Wynonna went on to announce that she would honor the dates scheduled for The Judds' farewell The Final Tour, which begins on September 30 in Grand Rapids, Michgian.
"So I've made a decision, and I thought I'd share it on national television that, after a lot of thought, I'm gonna have to honor her and do this tour," Wynonna shared. "I'm just gonna have to, 'cause that's what you would want. Bono once told me, give them what they want, not what you want … So tonight as we close, I say, the show must go on, as hard as it may be. We will show up together, and you will carry me as you've carried me for 38 years once again, because I honestly didn't think I could do it.
"I didn't know if I could go on without her," she added. "Life is so strange. It's so devastatingly beautiful what happened here tonight. So we will continue this spectacle. That's what she would want, right?"
Wynonna began the touching service by singing "River of Time," also singing "The Rose" with Brandi Carlile, and closing the night by singing "Love Can Build a Bridge," backed by a choir of singers. Other performers of the night included Ashley McBryde, Little Big Town, Carly Pearce, Emmylou Harris and Allison Russell, the Gaither Vocal Band, Jamey Johnson and Brad Paisley.
In addition, the ceremony, hosted by Good Morning America's Robin Roberts, included Martina McBride reading Maya Angelou's "When Great Trees Fall," and U2's Bono reciting an excerpt of The Judds' "Guardian Angels" lyric. Other stars paying tribute to Naomi, via video, included Oprah Winfrey, Bette Middler and Reese Witherspoon. Both Ashley Judd and Larry Strickland, Naomi's husband for 32 years, also spoke about Naomi's life and legacy.
McBride will serve as the opening act on The Final Tour. More information, including dates and venues, can be found at TheJudds.com.
If you or someone you know is in crisis, help is available 24/7 from the National Suicide Prevention Line at 800-273-8255.
Photo Credit: Katie Kauss / Getty Images for CMT