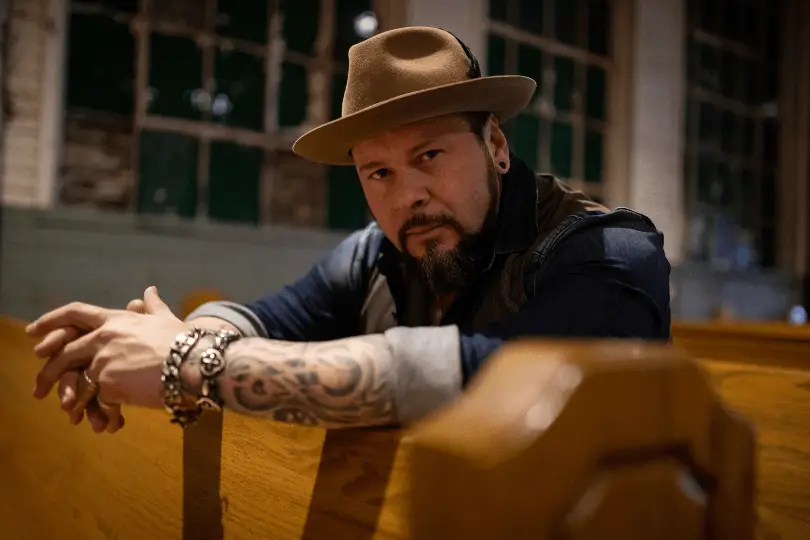 Jared Blake is giving Everything Nash an exclusive first look at the video for his powerful, and poignant, "Orange Keychain" song. Written by Jeffrey Steele, Brandon Hood and Melissa Pierce, the song is based on a true story of Steele, and what he describes as a real and personal encounter with Jesus.
"This song is the result of a most amazing encounter with Jesus, one year to the day of my sobriety," Steele says. "Proof positive that 'by His stripes we are healed,' spirit, mind and body."
Blake knew as soon as he heard "Orange Keychain" that he wanted to record it, even though it was one that he didn't write himself.
"Jeffrey Steele pitched this song to me during a write one day," Blake tells Everything Nash. "I loved it right away. We stopped writing and laid down my vocals immediately. The song sat around for the next couple of years. I just wasn't quite sure what to do with it. 2020 hit and the industry stopped. That's when the song got personal. I had been a believer most of my life but had never really shared my faith. It was through surviving a time period in which the music industry closed up that my passion to speak up about my faith begin. I have a new job, but somehow never missed a paycheck. 'People meet Jesus in the damndest ways.'"
Blake felt an instant, and deeply personal, connection to "Orange Keychain," but he never could have imagined that the song was Steele's personal encounter with faith as well. For that reason, the Arkansas native wanted to make the video for the song personal to Steele's own story of his spiritual encounter.
"I produce the song and begin the video treatment," Blake recalls. "I called Jeff to ask him about specific details of the song, only to find out that it was his personal story of meeting Jesus. The red bicycle in the video is crucial to the storyline as it was crucial to Jeff. It was an encounter with a man on a red bike on multiple occasions that revealed God's ever-present love to Jeff. As Jeff yelled at God to give him a sign, to speak to him, to let him know he was there, to show him the way, he pushed the man on the red bike away, only to realize that the man was just trying to help show him."
It was Steele's reckoning with God that led to the red bicycle, which Blake says likely no one but Steele would have appreciated.
"Jeff told God to give him a sign that only he could understand, something that was perfectly made for him," Blake shares. "It was an awesome red bike the man pulled up on. Little known fact: Jeffery Steele is a massive fan/collector of bicycles."
Blake has had plenty of experience performing in front of massive crowds, including appearing on the debut season of The Voice in 2011. But even with his extensive experience, Blake says there is something special about "Orange Keychain," and the way it connects with people.
"I've never played this song without someone coming up to me and telling me that this song is their life." Blake says.
The video for "Orange Keychain" was filmed at small chapel on The Experience Church's campus, in Murfreesboro, Tennessee, as well as at the Renewed Life Ministries Outreach in Christiana, Tennessee. Blake Hamlin stars in the video, who is leading an actual Celebrate Recovery meeting at the sober living house. Chris Ruediger and Leon Maclamore also star in the video, which was produced by Squeeks on Tour.
"Orange Keychain" is available for download or stream here. Find all of Blake's music and tour dates by visiting his website.