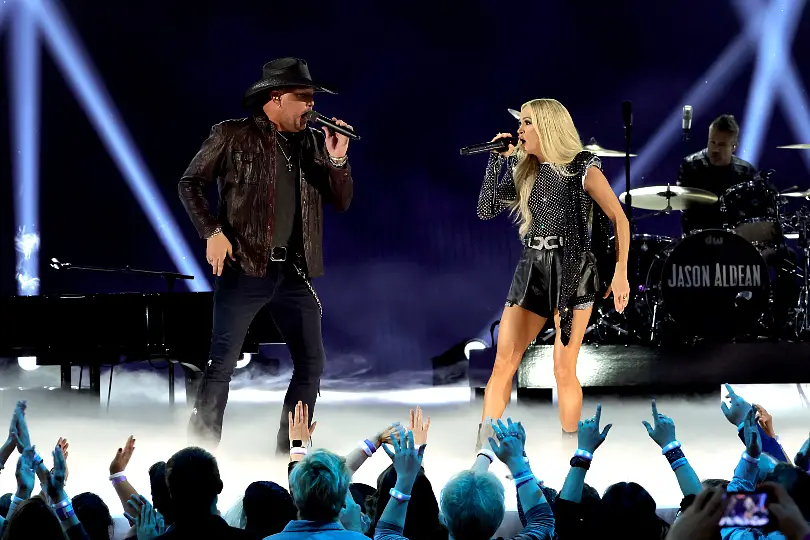 Jason Aldean and Carrie Underwood had one of the stand-out performances at the 2022 ACM Awards, with their "If I Didn't Love You" duet. The song, a surprise performance, began with a solo Aldean at the piano, before Underwood descended from the ceiling to join him on the second verse.
"I was scared for her, actually," Aldean admitted in the press room following the ACM Awards ceremony. "When we came to rehearsals, I knew she was coming from the ceiling, but I was like, 'Where is she sitting?' and then they showed me this little bitty seat. I was like, 'I'm glad you're doing this and not me, because I would have tapped out.' She's a trooper for sure."
Aldean loved the idea of Underwood descending from the ceiling, even if he was afraid for her safety at the same time.
"We've done this song now a few times, at some different awards shows, and [we were] trying to find ways to change it up a little bit and do something we haven't done," Aldean explained. "And so, that was kind of the idea. It worked out good. It looked, like I said, like a little bit of a Vegas show. But I was nervous the entire time until she got on the ground. But it was fun."
The father of four might have been nervous, but Underwood was completely at ease with the idea from the first time someone suggested it.
"This is my home away from home, with our residency not too far away from here," Underwood said. "I feel like I've gotten a taste for Vegas showmanship, and it's just so much fun. We were trying to think of ways to make this performance fresh and fun, and what else we could do. The song has been such a huge success, and we love it so much. We really just wanted to take a moment to celebrate it. When somebody said, 'How would she feel about descending from the ceiling?' I was like, 'I feel good about that.' I was excited. It's something I've never done before, and I'm always up for trying new things, adding a bit of a danger to the performance."
Aldean and Underwood's "If I Didn't Love You" won the ACM Award for Single of the Year. See a recap of the best performances from the ACM Awards here.