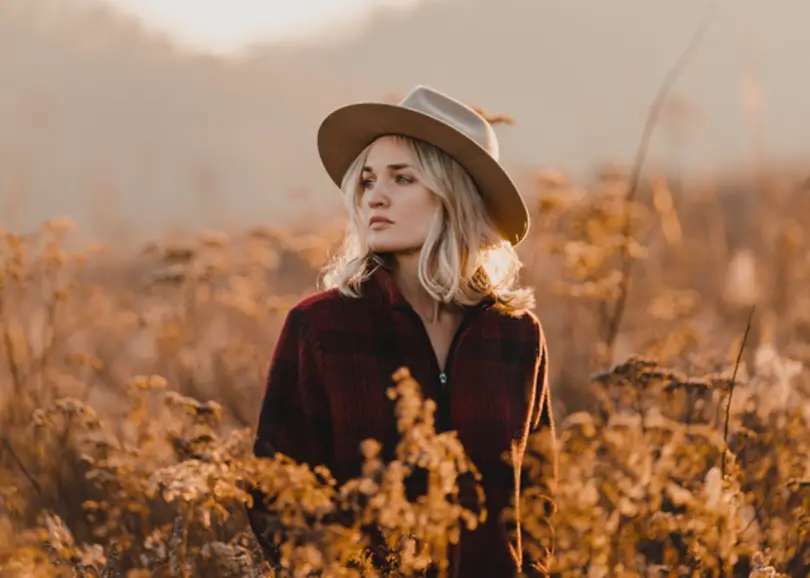 Jessica Willis Fisher is ready to make her mark in country music, this time on her own. The talented singer-songwriter might be best known as one of the family members in the 14-member The Willis Clan, which had their own show on TLC, and also appeared on America's Got Talent. But this time, Fisher is making music as a solo artist, dropping "Fire Song" from her upcoming debut solo album, Brand New Day, out in April.
"It's definitely a mixture of feelings," Fisher tells Everything Nash, when asked how it feels to be embarking on a new career as a solo artist, after so many years as part of a band. "The autonomy and authenticity feels freeing and empowering. Being open to new collaborations keeps me curious and grateful. I'm certainly never going to be a one-woman show and am very grateful for my new team who believes in what I'm doing."
Fisher wrote eight of the ten songs on Brand New Day by herself, with the legendary Jon Randall as her only co-writer on the record, who wrote "Fire Song" with Fisher. It's a stamp of approval that even Fisher is finding hard to believe.
"I actually stopped writing when I left my family band and went to 'the emergency room of life,' as I like to say," Fisher shares. "I had to evaluate each individual thing in my life, music included, and ask, 'Is this healthy for me?' When I finally, slowly, came back around to writing, and found a new way to do that, I had so much to say.
"I loved Jon Randall ever since I learned he wrote 'Whiskey Lullaby,'" she continues. "I had the idea for the song and some little fragments, and I felt it was a strong idea to take to him. I wanted to tap into that dark southern style and we did that! I'm so proud of what we made together and it ended up being the perfect first song to release off the record."
The only outside song on Brand New Day is a cover of Susan Ashton's "You Move Me." The song, first released in 1996, became an anthem for Fisher as she was readying the release of her debut solo record.
"I actually grew up listening to a few Susan Ashton records but had never heard her version of 'You Move Me,'" Fisher explains. "We were finishing the song list for the project and I had all these songs I wrote, plus one co-write, and I thought it would be good to have one outside song, a cover. All the rest were so personal to me, I wasn't sure what would be the right fit. Then my father-in-law, Pete, showed me 'You Move Me,' and I just started bawling.
"To me, the song articulated something I had wanted to say and hadn't been able to find the words," she adds. "It perfectly sums up how my relationship with my husband was the catalyst for moving into my new life."
Fisher's family grew plenty of acclaim for their harmonies and musicianship, but it all came to a screeching halt when her father was sentenced to 40 years in jail in 2016, for child rape. For Fisher, the reckoning of her past becomes a story of redemption with the songs on Brand New Day.
"The record is called Brand New Day, and each song shows a different way I see renewal," Fisher says. "Every lyric speaks to my story in a deep way because this is truly a new chapter in my life and in my music. While embracing my story has been hard, doing my inner work made me so much stronger. I think facing the truth frequently makes things worse before they get better, but once you've done the impossible, your whole outlook changes."
Fisher cannot erase her past, painful as it is, but she feels a sense of hope as she looks to the future.
"I'm grateful," Fisher says. "I'm curious. I'm passionate, and I have a lot to say and a lot of things I want to do. Every day is an opportunity to begin again, I hope this album can be the soundtrack to your new adventure."
Brand New Day will be released on April 13. Find all of Willis' music at JessicaWillisFisher,com.