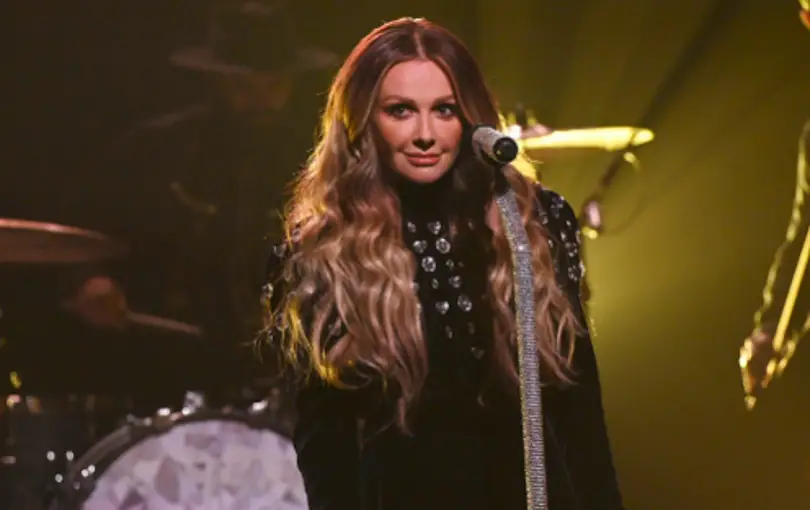 Carly Pearce never imagined she would be married and divorced in a year. The story flew in the face of how the Kentucky native imagined her life would turn out, with her publicized fairy tale romance imploding less than a year after she said "I do."
The headlines and gossip could have been enough to send Pearce running for cover. Instead, she bared her soul in 29 and then 29: Written in Stone, confronting her heartache head-on.
"I had to make a decision, when I went through a divorce," Pearce told Amazon's Country Heat Weekly. "I could have acted like it never happened. But that's not realistic, and that's now how I process things. And so I went 100 percent, because I didn't want to give it half. And it opened me up so much to who I am."
A happy, and a bit surprising, outcome of her broken heart is finding her inner confidence, in a way she could have never predicted.
"I had to make a decision when I went through a divorce. I could have acted like it never happened, but that's not realistic." – @carlypearce

Listen to Carly on the latest #CountryHeatWeekly episode on any platform you get podcasts! pic.twitter.com/bnQOhAXZhB

— Carly P Connect (@CarlyP_Connect) January 27, 2022
"I am more confident in myself," Pearce boasts. "I thought I was confident before that, but walking through something hard like that, and especially in the public eye, I gained so much strength that I feel like you can hear in the music.  I've heard so many stories of how this music has carried people through seasons in their life that were hard. Of course there are moments that I get emotional, but that's human nature."
Pearce not only came out on the other side stronger, but relating to her fans in a more personal way, after baring her soul.
"It's empowering to go, 'Wow, we are all just on this human rollercoaster ride, trying to figure it out,'" says the singer. "And it's so nice to go, 'Hey guys, I know I have fake eyelashes on. I know I have fake hair, and no, I did not buy these clothes. Somebody picked them out for me, and I'm on a stage, but I'm just like you.'"
Pearce previously said that, while her unexpected break-up hurt, she learned plenty in the process, lessons she now uses moving forward.
"To me, as an adult, something that you probably wrestle with more is trying to not assign so much blame to yourself," Pearce told BMLG. "A lot of times there are things that you overlook and there are things that maybe you, in the end, know that you should've known, and [you tell yourself] 'I'm gonna pay attention more.' And I think as you grow and as you go through life and you go through all different kinds of relationships, you learn that and you figure that out and hopefully you're better for the next."
Find Pearce's music and tour dates at CarlyPearce.com.