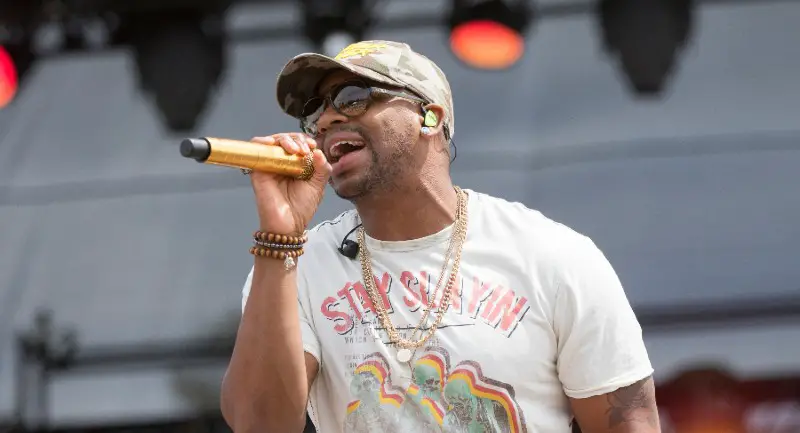 Jimmie Allen is headed to the dance floor! The country music hitmaker has joined the 30th season of Dancing With the Stars, part of an eclectic cast that includes JoJo Siwa, Brian Austin Green, Amanda Kloos, Olivia Jade and more.
The news was announced while at one of Allen's favorite places: Disneyland.
"It feels great," Allen gushed on Good Morning America. "I proposed to my wife at Disney. We had our baby reveal at Disney. I've gone like 70 times since 2012. It's pretty bad. But there's worst things to be addicted to. So why not give all my money to the Mouse?"
Fortunately, Allen knows several people who have already appeared on DWTS, whom he has already reached out to for advice.
"I talked to Chuck Wicks, he did it," Allen shares. "Lauren Alaina. I actually talked to AJ [McLean]. Rashad Jennings, Bobby Bones. I know Nelly did it last season. They said it's gonna be difficult, but it's fun, and they're not lying. These rehearsals … I never ballroom danced a day in my life. It's rough."
Allen previously said that his fascination with Disney had to do with much more than just the amusement park
"First when I was a kid, I just loved the movies," Allen tells BroBible. "But then I started having an obsession with Walt [Disney], because Walt's a guy that had a dream. He had a goal he wanted to reach. His first character, Oswald, was stolen from him, and instead of giving up, he came back, took out loans and bet on himself.
"He took out loans, knowing he had no way to pay it back," he continues. "He didn't come from a bunch of money. He didn't have a handout. He worked for everything he had. And then he went and created Mickey … He made it happen. Walt was a dreamer. He executed his plans and he made it happen. So Walt is a huge inspiration. And every time I go to Disney, I ride rides sometimes, but for me, it's my spot. Everybody has a place where they get inspired, and for me, it's Disney World."
Dancing With the Stars premiere on September 20 at 8:00 PM ET on ABC.
For more exclusive artist interviews, click HERE to subscribe to our YouTube channel.