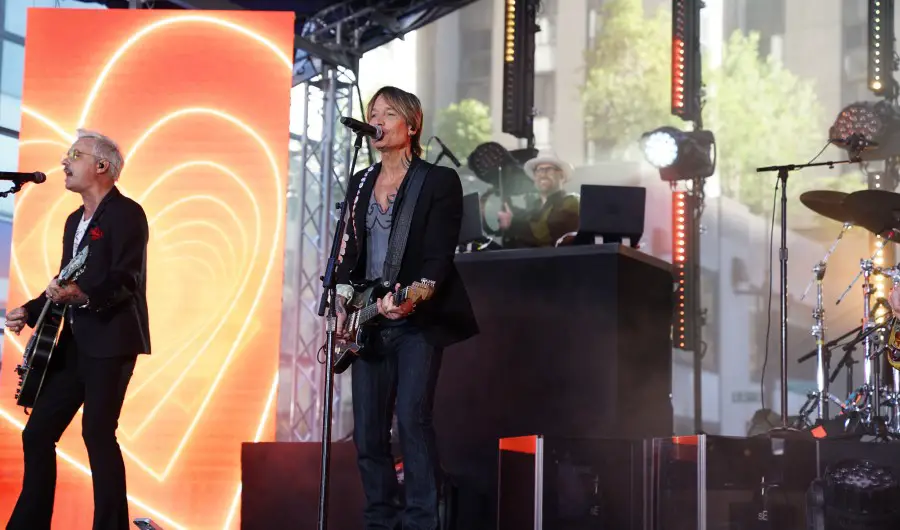 Keith Urban is ready to resume the life of an artist. The New Zealand-born singer just played a festival, which marked his first live performance in front of a crowd in well over a year, due to the pandemic.
"We're going to resume our Vegas residency, which was cut short last year," Urban said on the Today Show, speaking of his plans for 2021. "When we played a festival last week in Ohio, [it was] 559 nights since we played in between shows. Isn't that insane?"
Urban and his wife, actress Nicole Kidman, spent an unprecedented amount of time together as a family, including with their daughters Sunday Rose and Faith Margaret.
"We were in Nashville, at the beginning of last year, and we were there until about July," Urban recounted. "And then, Nic was supposed to be filming Nine Perfect Strangers, which, they couldn't film anything here. They had it structured in Australia where we could go film there. So we went down there, and spent the next handful of months down there."
Urban will resume his Las Vegas residency later this month, but he is also ready to resume touring life as well.
"I love traveling," said the singer. "I do love traveling. But at the same time, everybody's different. Every  night is different; the show is always different."
Urban, who appeared on Today with an eye injury, admits he feels most alive when he was in a live concert setting, especially after so many virtual shows.
"[It's] like a breath of fresh air," Urban said after his performance, which included his current single, "Wild Hearts." "It's just nice to be back. The energy of real people … I love the Zoom, but playing a show on Zoom is like standing outside the window of a night club, really."
"The great thing about music is we all come together," he added. "With sports, everyone's going for two different sides already. Music, everybody's always on the same team."
See a list of all of Urban's upcoming shows, including those at  The Colosseum at Caesars Palace in Las Vegas. by visiting his website.
Photo Credit: NBC News / Today