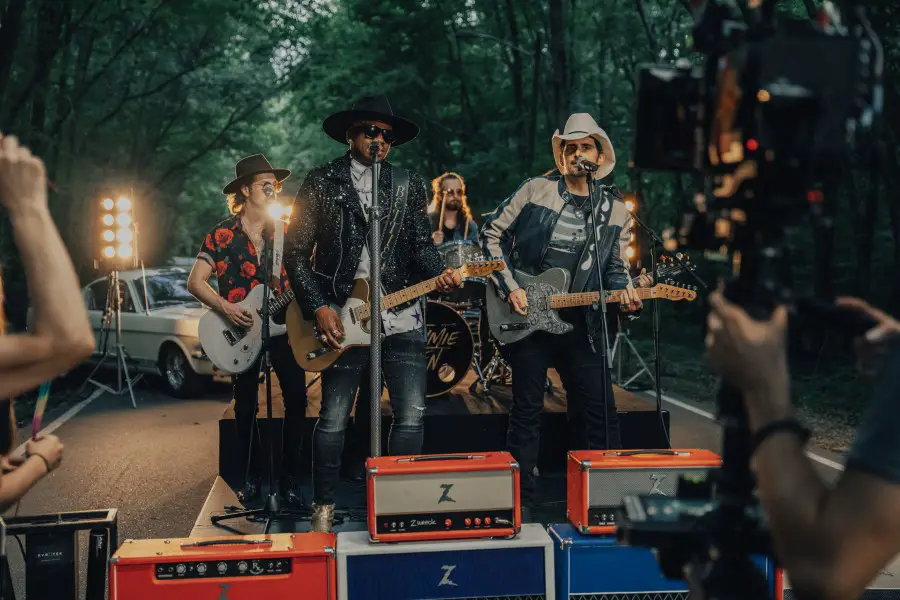 Jimmie Allen just released a new video, "Freedom Was a Highway," featuring his duet partner, Brad Paisley. Allen directed the video, along with Christopher Beyrooty. The song is from Allen's Bettie James album.
The video is a cinematic take on the uptempo song, with a few sci-fi elements thrown in. Allen was inspired to write the song by his hometown of Milton, Delaware.
"When I was writing this song with my co-writers, I imagined myself driving down my favorite roads in Delaware," Allen said of the song, which he wrote with Ash Bowers and Matt Rogers. "This song takes me back to simpler moments such as an innocent, childhood crush on the next-door neighbor or feeling freedom in the wind as you drive with the windows down. I've loved this song from the creation.
"I'm a huge admirer of Brad Paisley," he adds. "I love what he brings to music and I had to have him bring that same magic to this song. I'm humbled to have him join me on this song – he brought the Freedom to the Highway."
Allen just released Bettie James Gold Edition, an ambitious 16-track project that includes collaborations with Keith Urban, Little Big Town, BRELAND, Pitbull, Babyface, Lindsay Ell, LANCO and more.
"I love collaborations," Allen tells Everything Nash. "I think it's fun. Someone at a different label asked me, 'Jimmy, do you think you're doing too many collaborations?' I said, 'No.' In every other genre, they collaborate all the time. And if you look at the creation process of a song, the whole thing is a collaboration until the performance of it. The songwriting, there's a collaboration of productions, a collaboration in the mixing and the mastering, the marketing plan around it. Everything else is a collaboration except for the performance most of the time.
"I love working with other artists," he continues. "They bring energies too. They bring energy to the song. Somebody was like, 'Do you think that'll hurt your career?' I said, 'I'm confident in who I am. I don't mind sharing a song with someone else.' Especially when it goes both ways. Somebody else can bring energy to the song that you couldn't bring. And also, you get a chance to introduce each other to each other's listeners — one of the best marketing things out there, in my opinion."
Allen is currently on the road with Paisley, on Paisley's Tour 2021. Purchase Bettie James Gold Edition and find tour dates at JimmieAllenMusic.com.
Want more exclusive interviews? Subscribe to our YouTube channel here.