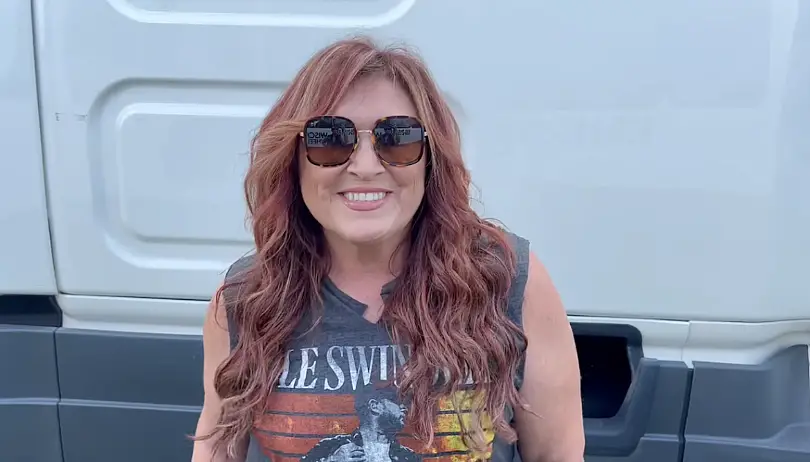 Jo Dee Messina's debut single, "Heads Carolina, Tails California," is getting new love, thanks to Cole Swindell's new single, "She Had Me at Heads Carolina," written in tribute to the iconic song. Messina recently shared the story behind the song, which was released in 1996, on her eponymous debut album.
"My album, my first album was done," Messina recalls, while sporting a Swindell t-shirt. "We had finished with the record, ready to pass it in, and then one of the writers, Tim Nichols, called me and said, 'Man, me and Mark Sanders just wrote this song. And so, we wanted you to hear it.' I was like, 'We're done with the record. I mean, you could leave it in my mailbox if you want, and I'll listen to it, but we're done with the record. We wrapped it up.' So I got the song, and I played it for my producers, Byron Gallimore and Tim McGraw at the time, and they were like, 'Man, we gotta cut it.'"
Although she was a new artist at the time, Messina knew she liked everything about the song, except for the opening line.
"It's interesting, because the first, opening line of the song as you know it, is 'Baby, what do you say we just get lost," Messina says. "It was originally, 'We shoulda known it the day they shut the paper mill down / There'll be no future for us no more in our little town / I've got people in Boston / Ain't your daddy still in Des Moines.' I was like, 'I don't understand that. I can't relate to that opening line.' And so, my producer's like, 'Well you can just ask them, to see if they'll change that line.' I was like, 'I can't ask somebody to change their song.' And so, they did. My producers asked, and the writers changed that first line into what you know it now."
Not only did "Heads Carolina, Tails California" come in after her record was completed, but she had to get creative in finding time to record what would become one of her biggest hits.
"Because it was an afterthought, we had the record passed in, and we couldn't put the scheduling and the timing of that back too far, so we had to record it pretty much immediately," Messina remembers. "And the only day that was available was the 4th of July. It was a holiday when the studios weren't booked, and the musicians were available. And so we went in on the 4th of July, after the album was done, recorded 'Heads Carolina,' and it ended up being the first single."
Making a comeback 26 years later. This is where it all started…

Posted by Jo Dee Messina on Wednesday, July 13, 2022
Swindell wrote "She Had Me at Heads Carolina" with Thomas Rhett, Ashley Gorley and Jesse Frasure. While a self-proclaimed lover of '90s country music, even he admits the song was not a likely choice for him to redo, which is precisely why he did it.
"Out of all the '90s country songs we all love, I don't think anybody would have thought we would have picked that one, but I think that's what makes it special," Swindell concedes.
Swindell recently revealed that Messina will make a cameo in the upcoming video. Download "She Had Me At Heads Carolina" here.
Messina is still performing "Heads Carolina, Tails California" while on the road. See a list of her upcoming shows, and find all of Messina's music, by visiting her website.