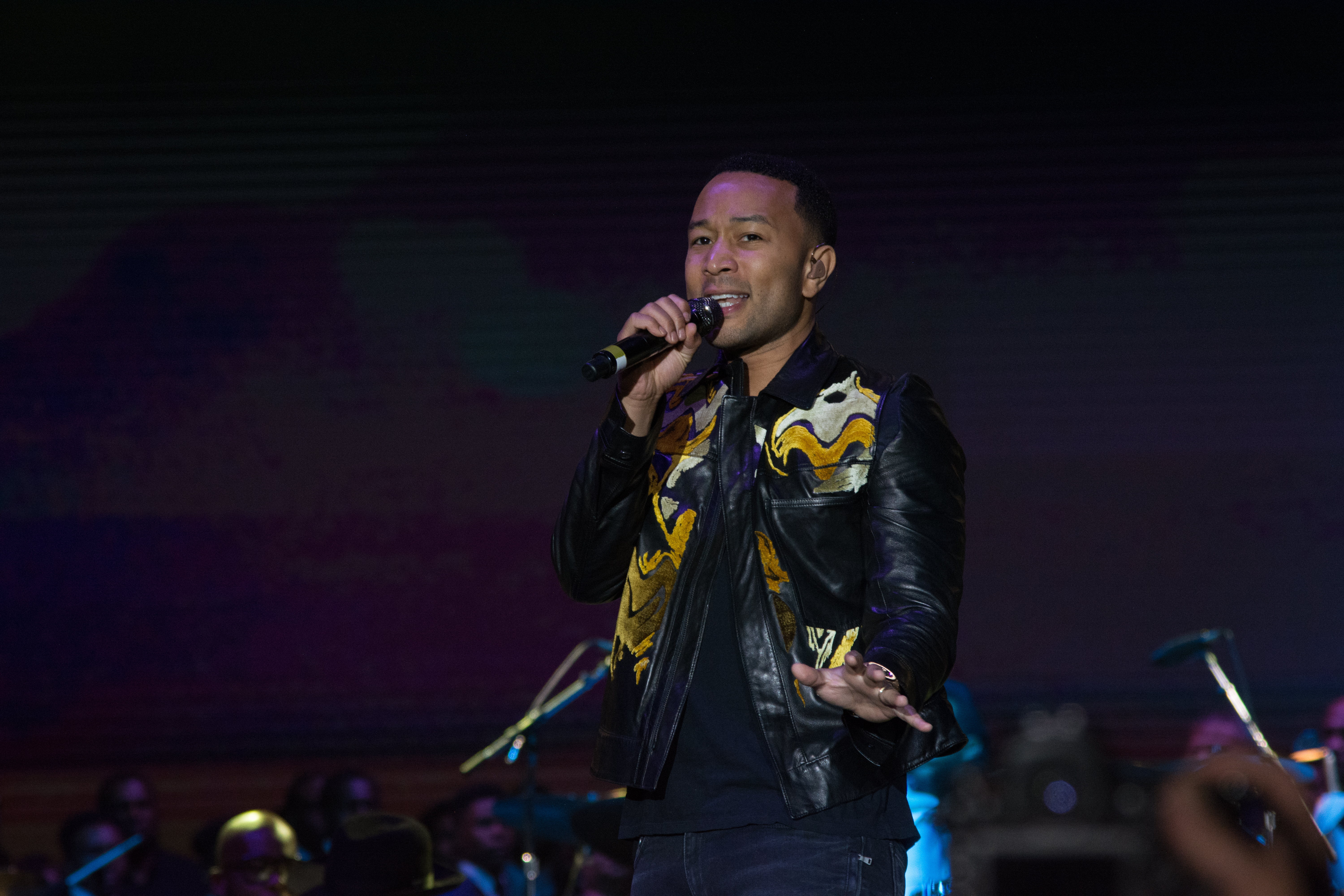 John Legend might be one of the reigning pop and R&B superstars, but he is no stranger to country music either. The 42-year-old has collaborated with artists like Carrie Underwood and Kane Brown, and is a good friend to Blake Shelton, thanks to their time together on The Voice.
"Those boundaries are artificial anyway, to begin with," Legend tells The Tennessean, speaking of the delineation of music by genres. "And there's so much that we have in common as musicians. There's so much commonality between R&B, country, rock and blues … when we come together, and we want to create something beautiful, we can do it in a way that's genre-less and also genre-defying."
Legend is scheduled to perform at Nashville's Ascend Amphitheater on Thursday, September 2, as part of his Bigger Love Tour, which was rescheduled from 2020 because of the pandemic. Although Legend has not followed in the footsteps of artists like Jason Isbell and Maroon 5 — at least not yet — requiring concert attendees to be vaccinated or have a recent negative COVID-19 test, Legend is encouraging guests at his show to do all they can, including wearing masks, to keep everyone safe.
"I think everybody just needs to be wise and take precautions and think about themselves and their families and their communities," Legend urges. "And (they should) say, 'Let's do what we can to make sure we don't spread a virus. We can enjoy this night, but let's be safe at the same time.'"
Legend's collaboration with Underwood, on "Hallelujah" from her My Gift Christmas album, earned Legend his first CMT Music Award, for Video of the Year. It was Legend who sent Underwood the song, never imagining she would ask him to sing with her on it.
"I was deep into making the album, and this one came in. He sent it to us kind of at the end," Underwood said, during an episode of Today's Country Radio With Kelleigh Bannen on Apple Music Country. "It was like, 'Well, I love the song. I feel like this is a puzzle piece I didn't know was missing, but now that I've heard it, I have to have it,. And so we just put the ask back, 'Thank you for sending. Do you want to sing a part with me, too?'"
Legend's Bigger Love Tour kicks off on September 1 in Atlanta, Georgia. Americana duo, The War and Treaty, will serve as Legend's opening act. Legend will also return for Season 21 of The Voice.
Find all of Legend's upcoming shows by visiting his website.