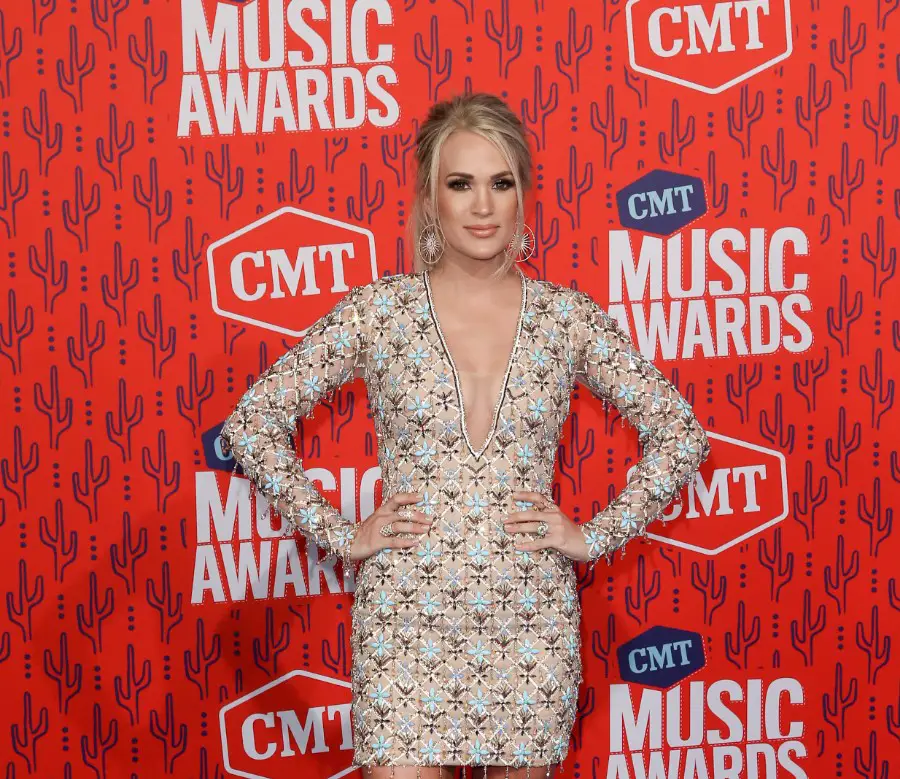 Carrie Underwood is continuing her reign as the most-awarded artist at the CMT Music Awards. The American Idol alum claimed the night's highest honor at the CMT Music Awards, with Video of the Year, for her "Hallelujah" video with John Legend, marking her 23rd CMT Music Awards win.
"Fans, thank you so much," Underwood said after accepting her trophy. "You guys, you're the reason we are all here doing what we do, doing what we love, making music videos."
"John Legend, thank you for sending me this incredible song and agreeing to sing with me on it," she continued, "and making this incredible video that I am so proud of, and congratulations on what I think is your first CMT Award! … God bless you guys. Thank you so much! Thank you, fans! Thank you, CMT!"
Underwood was also nominated for Collaborative Video of the Year, with that trophy going to Chris Young and Kane Brown, for "Famous Friends."
Prior to the ceremony, Underwood spoke to Entertainment Tonight about being nominated for "Hallelujah" with Legend.
"It's such a beautiful song, and it's such a beautiful video," Underwood said. "I'm just really proud that it was nominated."
Other highlights included Kelsea Ballerini winning her first CMT Music Award, for CMT Performance of the Year, for her collaboration with Halsey on "The Other Girl." Ballerini, who co-hosted the show with Brown, acknowledged during her acceptance speech that she knew some questioned whether the song was country enough.
"This is my first CMT Award!" Ballerini said from stage. "I'm beaming that it's a performance with another woman in music that I respect and that I love … After this performance last year, there was a lot of chatter on, categorically, what genre that song did or didn't fit into. And the fact that you voted this as the winning performance tells me that you know where my roots are and that you know who I am."
"But it also tells me that you hear music as music, and it tells me that you love when people push boundaries and explore their artistry," she added. "And as I make a new record, that means the absolute world to me."
Dylan Scott also won his first CMT Music Award, for Breakthrough Video of the Year, for "Nobody." See the complete list of winners below.
VIDEO OF THE YEAR
Carrie Underwood & John Legend – "Hallelujah"
FEMALE VIDEO OF THE YEAR
Gabby Barrett – "The Good Ones"
MALE VIDEO OF THE YEAR
Kane Brown – "Worship You"
DUO/GROUP VIDEO OF THE YEAR
Little Big Town – "Wine, Beer, Whiskey"
BREAKTHROUGH VIDEO OF THE YEAR
Dylan Scott – "Nobody"
COLLABORATIVE VIDEO OF THE YEAR
Chris Young and Kane Brown – "Famous Friends"
CMT PERFORMANCE OF THE YEAR
From the 2020 CMT Music Awards – Kelsea Ballerini and Halsey – "The Other Girl"
CMT SOCIAL VIDEO OF THE YEAR – "BEST FAMILY FEATURE"
Taylor Swift – "The Best Day (Taylor's Version)"
CMT EQUAL PLAY AWARD
Linda Martell