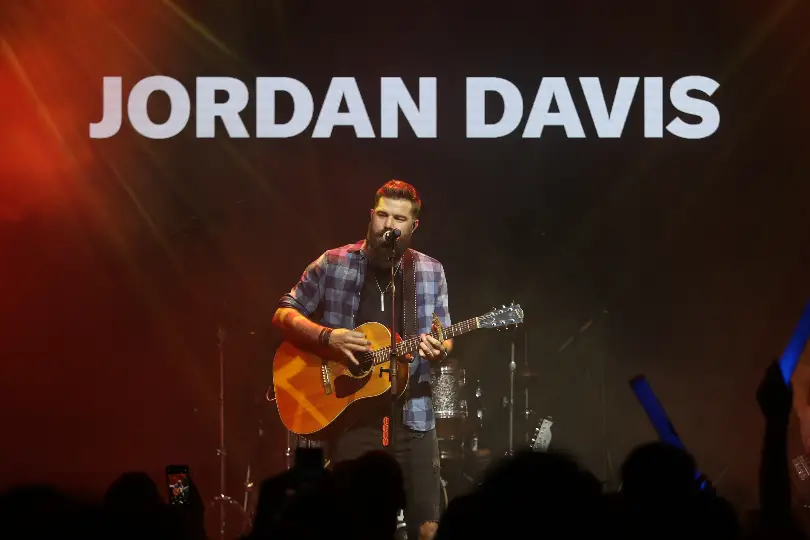 Jordan Davis had a massive hit with his recent No. 1 single, "Buy Dirt." The song, which featured Luke Bryan  on the track, was both a blessing for Davis, and a bit of a curse, as he struggled with figuring out what to release after such a successful single.
"'Buy Dirt' was a big song for us," Davis admits on Apple Music Country's Today's Country Radio with Kelleigh Bannen. "I don't want to say [it] paralyzed me when it came, but that song meant so much to me and just absolutely changed my life, my career. To think about what you do next past that has kind of hung me up."
Davis chose to follow "Buy Dirt" with his new single, "What My World Spins Around," which Davis wrote with Matt Dragstrem and Ryan Hurd. The song is from Davis' forthcoming new album.
"I've loved 'What My World Spins Around' since the day we wrote it," Davis says. "I'm excited to get it out, but it took me a little while playing it on the road to see that connection to where I was like, 'Okay, this song is very similar in what we were doing with 'Buy Dirt." When we were playing that song out live, 'Buy Dirt' just grabbed people and we saw it on stage. I saw it whenever I was playing it for people and 'What My World Spins Around' is kind of following that same vein. But it's still kind of scary to just throw it out there after such a big song."
While immensely grateful for the success of "Buy Dirt," the 34-year-old had to work hard to not just recreate what the song had already done for him.
"For a while, I would show up to a write and I would try to rewrite ['Buy Dirt'] … I was just stuck and I finally had to get to a point where I was like, 'I'm grateful for that song. That was my last single, and the next one's going to be my next one,' and put that behind me," Davis shares. "That's how we landed on 'What My World Spins Around.' But yeah, for a little while, I probably wasn't a very fun guy to write with, looking back on it – because I was just so like, 'I don't know. This isn't good enough.'
"Paul [DiGiovanni], my producer, he was probably going crazy, because he was like, 'Dude, this is a good song, man,'" he adds. "And I'm like, 'Ah, I don't know, dude. I just don't think it's there yet.' And everything was getting compared to that. But I'm in a better spot now."
Find all of Davis' music and upcoming shows at JordanDavisOfficial.com.