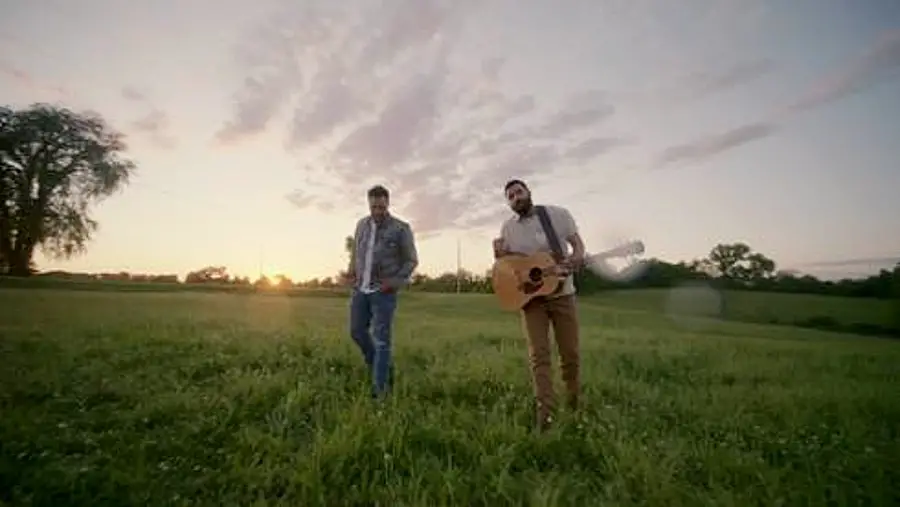 Jordan Davis was already an established hitmaker, with three No. 1 singles to his credit, when he decided to ask Luke Bryan to join him on the nostalgic single, "Buy Dirt." Although the two were already friends, Davis admits he was terrified to ask Bryan to join him on the song, which Davis wrote with his brother, Jacob Davis, and brothers Josh and Matt Jenkins.
"Luke has a farm and has strong beliefs about faith and family, so I knew ['Buy Dirt'] could resonate with him," Davis tells The Tennessean.
"I knew I loved listening to the song. I didn't know what to expect, and if what I was typing would highlight how much the song meant to me," he adds. "I was so nervous to send [Bryan] the text that I must've read it over 20 times."
Davis might have been nervous to send Bryan the song, but his fears were largely unfounded. As soon as the American Idol judge heard the song, he knew he wanted to join Davis on the pensive tune.
"I love trying to make life easier for people if I can," Bryan says (via 94.3 Kat Country). "I think 'Buy Dirt' would've been amazing for Jordan Davis whether I'm on it or not but if just me being a part of that helps get him some more notoriety and helps grow his artistry…"
"Buy Dirt" was inspired by an acre of land Davis' own grandfather once owned in Stonewall, Louisiana.
"I was raised in a blue-collar family," Davis reflects. "So my grandfather's land, though small, you would've thought – given how much he loved it – that he had a castle on a hill."
It was those early years that not only inspired Davis' latest No. 1 hit, but the property he wanted to live on with his own family, which includes his wife, Kristen, daughter Eloise, and son Locklan.
"I never thought I'd be blessed enough to have my wife, my daughter, my entire family able to enjoy campfires together on a few acres like I did when I was a kid," Davis shares. "Or, if my son ever decides he wants to get into hunting, I'm thinking about those first duck hunts we'll go on together. When you get to buy dirt, and live on it, it's all about – just like the song – the special memories and togetherness that the dirt allows to be created."
"Buy Dirt" earned Davis his first CMA Awards nomination, for Musical Event of the Year. He is joining Dierks Bentley for his 2022 Beers On Me Tour. Find music and tour dates here.