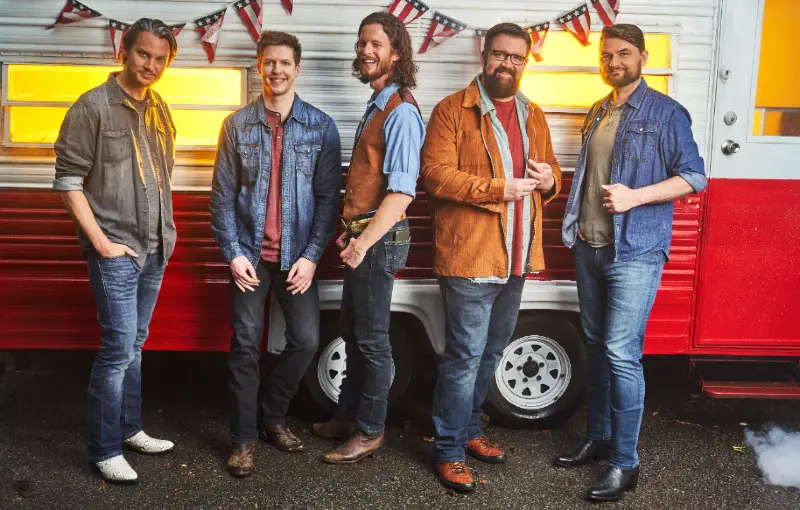 Home Free might now be able to sell out large venues, and make a full-time living doing what they love, but that wasn't always the case. The all-vocal group spent several years trying to get their music heard, with varying degrees of success. Ironically, it was the invitation to collaborate with one of country music's biggest legends that made Home Free realize that, finally, their hard work was starting to pay off.
"When Kenny Rogers reached out to us, we didn't do anything to try and get in touch with him. He reached out to us — that was really incredible," Austin Brown recalls to YouTube's Jacob Restituto. "And through that process, we made a friend, and somebody who was very kind to us in his final years. He was such a gem. We could talk about him for a very long time. But there were some moments that came maybe two years after the Sing-Off, whenever we had worked with Kenny on his Christmas album, "Children Go Where I Send Thee," [from Once Again It's Christmas]. He was so kind. And then we had an opportunity to go and do The Tonight Show with Jimmy Fallon, with Kenny Rogers. And we were so ecstatic. We were over the moon."
Unfortunately, travel delays and inclement weather made it impossible for Home Free to perform with the Country Music Hall of Fame member, even after booking an expensive private jet. But the members still got to hang out with Rogers backstage at The Tonight Show, which became one of the most meaningful and impactful moments of their career.
"We had just a really beautiful time with Kenny, bonding backstage," Brown recalls. "He talked to us for hours, telling us stories about Nashville, about country music, about all the stars, about what it's like. He told us a story about his career. He said, 'Boys, just let me tell you something. Don't worry about today, man. You guys are gonna be here for a while, and you don't want to rise fast. The slower that you rise to the peak of your career, the much more graceful your longevity will be on its decline.' … It really meant a lot. We learned a lot that day."
While speaking with Restituto, Brown opened up about the early years of Home Free, even before he joined the group in 2013.
"Chris Rupp is one of the most tenacious people I have ever met in my life," Brown says of Home Free's founder. "He's such a hard worker. And when they started the band, they just kept it going. And the things that they went through, they would have made 99.9 percent of the people in this world, would have quit … But for some reason, they kept going. There are several stories that they have about how they almost quit, because it was just so terrible, in the pouring down snow, minus 20 and the van breaks down, and the trailer pops a tire, and they're all falling trying to get stuff fixed, and they're stuck after losing money to go do a show.
"But they kept going, and I'm so grateful for that," he adds. "Because when I was able to join the band in 2013, they had a good thing going at that point. It was a blessing for me to join at that point. I was like, 'This is awesome!'"
Rogers passed away in 2020. Home Free released a cover of "The Gambler" in tribute to Rogers after he passed away. Watch it here.